Best Hiking Leggings for Cold Weather
Women have found out that hiking in leggings is more comfortable than their usual choice in hiking pants. Leggings allow movement in more flexible ways than the usual apparel which is apparent as they are used in yoga. In recent times, we have seen many women adopt tights for hiking. One thing that makes leggings good is that they can keep the legs warm in low temperatures during a hike as they can be worn as an undergarment.
So here is list of top leggings for hiking in cold weather.
1. Fjallraven Abisko Trekking Tights

Fabric: Polyamide-elastane blend
Fit: Regular
Length: Ankle
Weight: 9.0 oz.
Fjallraven Abisko Trekking Tights are burly and built for serious long haul treks with reinforcements in key areas. If you are not a fan of typical baggy hiking pants but still want something that will hold up, check these out. The fabric is a polyamide with elastane blend and it resembles a soft shell-like fabric. It is also super durable and water-resistant. The pants give a UPF 50+ rating, which is excellent for high altitude trekking where UV exposure is a real threat. These pants have smart reinforcements on the seat and knees. If you kneel or sit on damp grounds, you'll stay protected.
The waist and upper front are stretch fabric for freedom of movement but you still get belt loops and standard fly to get to the feel of regular hiking pants. There are unique pockets on the pants as well. A large pocket on the right leg is large enough for a map and the pocket on the left-hand side can hold your compass. There are standard hand pockets at the waist and a loop if you need to clip a jacket to your pants.
The fit is tight, hence the 'Tights' in the name. They fit how you'd expect them to. A bit snug in the thighs, there's a little bit of extra room at the calf but pretty formed fit throughout. Overall, these are a worthy alternative to baggy hiking pants. You still get all the key features, enhanced durability, true freedom of movement, and can still layer them easily under a waterproof shell if needed.
Pros: Super breathable, durable enough, excellent pockets, the waist stays put
Cons: Can feel a little odd at first.
See the Fjallraven Abisko Trekking Tights See the Women's Abisko Trekking Tights
2. Icebreaker 200 Oasis

Fabric: 100% merino wool
Fit: Slim
Length: Ankle
Weight: 5.7 oz.
Icebreaker 200 Oasis is one of the most durable leggings out there. They offer exceptional performance with a wide range of thermoregulation. The fabric feels thin but it is loaded with 200-gram merino wool. It is a mid-weight base-layer bottom that is perfect for cold temperatures. You can wear them under uninsulated pants or wear them with insulated pants while winter backpacking. The fabric keeps your skin dry and warm and does a good job of regulating temperature. Oasis Leggings also perform well as a ski base-layer. The fabric is also stretchy so it provides an overall good fit for a variety of shapes and sizes.
Since the fabric is thin, it provides excellent breathability. The thin fabric also does a great job of repelling water. This feature makes it a water-resistant option for wet conditions. It absorbs less water and dries out quickly. The merino wool offers a nice and soft next to skin comfort. There are extra materials in the length that long-legged folks will appreciate. The fabric is also well-constructed and extremely durable for hiking. This is not super thick and not particularly cozy but it is certainly comfortable for all-day wear. If you are looking for a durable pair of merino wool leggings, Icebreaker 200 Oasis is the ultimate option for you.
Pros: Comes in a variety of color options, good thermoregulation, comfortable to wear, super durable
Cons: Not the warmest option.
3. Icebreaker Merino Comet

Fabric: 48% Polyester, 36% Merino wool, 16% Spandex
Fit: Slim
Length: Ankle
Weight: 9.73 oz.
Icebreaker Merino Women's Comet Leggings are a popular choice among women because of many of its features that make it suitable for many activities alongside hiking which include running, skiing, and working out. The fabric consistency of these is similar to that of the Smartwool PhD Tights, that is, 38% Merino wool and 46% nylon, and 16% LYCRA making them a suitable product for cold weather. What makes these tights popular in women is the shape it gives along with comfort. The UPF 20 fabric also protects from UV sunlight.
These tights also feature flat-lock seams that prevent chafing. The tights consist of a contour waistband which contributes to its shape that women love so much. The waistband also features a low profile single internal drawcord which allows adjustment while retaining an uninterrupted, smooth-looking shape. The crotch is also gusseted which adds to comfort and mobility. The tights have a tapered leg opening instead of zippers which function well and keep the ankles comfortable. The zippered back stash pocket allows for secure storage of your stuff, however, there is no side pocket for extra storage. The tights also contain a heat transfer logo that enhances visibility in low light.
Pros: Regulate body temperature, super breathable, dry faster, no stink
Cons: The zippered pocket at the back is too small to hold a smartphone.
See the Icebreaker Merino Comet
4. Arc'teryx Oriel Leggings

Fabric: 71% Nylon, 29% Elastane
Fit: Next-to-skin
Length: Ankle
Weight: 5.5 oz.
The Arc'teryx Oriel Leggings are geared towards women who are looking for something to wear in the winter season while climbing rocks. That means it is made of highly durable material and allows for high mobility as well. The price is also comparable to most high-end leggings and they will last much longer. The fabric of these leggings is made of 71% nylon and 29% elastane making the leggings highly durable, suitable for winter, and allowing a high degree of mobility which is often required while climbing rocks and similar terrains. The high elastane content makes it very flexible. The fabric is also not see-through.
The waistband is mesh-lined to effectively manage moisture. The tights come with two harness friendly cargo pockets, which provide decent storage space. The crotch of the leggings is also gusseted which not only adds to comfort and mobility but also prevents the dreaded camel toe. The downside of the Arc'teryx Oriel leggings is that the lighter colors tend to show liquid stains like water spills, sweat, etc. They do come out in the wash but this is something to keep in mind. Also, the waistband tends to roll down during vigorous activities.
Pros: Super lightweight, sleek, pockets are large enough to hold an iPhone
Cons: A little long for short people, doesn't protect against mosquitos
See the Arc'teryx Oriel Leggings
5. Fjallraven Abisko Trail Tights

Fabric: 82% Polyamide, 18% Elastane
Fit: Form-fitting/Athletic
Length: Full leg trousers
Weight: 7 oz.
The Swedish brand Fjallraven is known for its reliable and durable products of good quality. The items from this brand can last up to two years even with regular, rugged use. The Abisko is a lightweight, durable trekking tights for women and is ideal for women to hike in the cooler summer days. However, it is not a product that is recommended for actual winter hiking. The fabric is made up of 82% nylon and 18% elastane. The high nylon content makes it very durable and, hence, the claim. The fabric is very stretchable so you don't get the feeling that it is too tight and still allows you to move freely. The fabric is also thick relatively and does not make it see-through. There is also a lighter ventilation fabric at the waist, crotch, and the back of the thighs.
The fabric is also reinforced at the seat and knee portion with a ceramic print. This reinforcement is discrete but functional. The tights also contain pockets to store personal stuff. There are two pockets on both legs. One is a drop-in pocket, slightly larger, and the other is a small zipper. Another feature that is worth mentioning of this product is its comfortable high waist along with a well-implemented drawcord. The flat-lock seams are present to minimize chafing. The fabric is also UPF 50 rated to provide good protection against UV rays from the sun.
Pros: The fabric feels amazing, great fit
Cons: Bunches up a bit around ankles
See the Fjallraven Abisko Trail Tights See the Women's Abisko Trail Tights
6. Under Armour ColdGear

Fabric: 87% Polyester, 13% Elastane
Fit: Second-skin fit
Length: Ankle
Weight: 8.5 oz.
Under Armour is known for being a brand for athletes. The Under Armour ColdGear Authentic Leggings are for those who enjoy the outdoors. ColdGear Authentic Leggings fit like a second skin and make an ideal starting layer when preparing for outside. The fabric of the leggings is made up of 87% polyester and 13% elastane. It is also dual-layered with the inner layer being warm and soft while the outer layer is smooth and sleek. The fabric supplies warmth and moisture management and is very lightweight. It has a 4-way stretch construction which enhances mobility and maintains shape.
The fabric has a signature moisture transport system that wicks sweat away and dries quickly. Flat-lock seams minimize chafing. The fabric of these leggings is made up of compression material which fits tightly to feel almost like a second skin. These leggings will keep you warm overall but they also provide some breathability so that your skin doesn't feel suffocated. Their breathability, comfort, and ability to keep the legs warm makes them a great choice for hiking in the winter season.
Pros: Comfortable, good fit, perfect pocket size
Cons: Not too warm, thin and flimsy
7. Smartwool PhD Tights

Fabric: Nylon, Merino Wool, Elastane blend
Fit: Slim
Length: Ankle
Weight: 8.7 oz.
If you are looking for a pair of tights that don't make you run inside when the temperature drops while also remaining comfortable and manages moisture as well, then Smartwool PhD Tights are a good choice to consider. Smartwool PhD Tights consists of cleverly woven fabric of Merino wool, polyester, and elastane. The fabric contains a good 37% Merino wool and 46% nylon making it very suitable for cold temperatures. The Merino wool faces the skin giving a comfortable feeling to the tights while regulating temperature and moisture. The Merino wool is also smell resistant so the tights do not smell if you sweat. The nylon mesh facing outside keeps the cold winds at bay while also adding to the comfort of the tights and keeping the tights resistant to abrasion and wrinkling.
Furthermore, the flat-lock seams and waist of the tights minimize chafing. These tights contain a drawcord that allows for a customizable waist fit. The tights also contain a zip pocket at the back with a semi-auto locking zipper pull for securing your stuff and a drop-in pocket at the side for extra storage. The tights also contain reflective elements that enhance visibility in low light conditions. The fit of the tights is also not completely fitting and not too revealing. The tights also feature simple zippers outside of the ankle to avoid irritating the Achilles.
Pros: Keeps you warm sub-zero days but not too hot on warmer winter days.
Cons: Could be a little too warm for longer hikes in temperatures above 40.
8. Paradox DRI-Release Baselayer Pants

Fabric: 84% Polyester, 11% Merino wool, 5% Spandex
Fit: Not specified
Length: Ankle
Weight: Not specified
If you are looking for the comfort of Merino Wool in budget tights from a respectable brand, then the Paradox DRI-Release Performance Base Layer Pants is something that might be for you. The fabric is made of 84% polyester, 11% Merino, and 5% spandex. The Merino makes the tights comfortable to wear, adds to the ability to keep the legs warm, gives it antimicrobial properties, and also makes the tights resistant to developing an odor. However, the FreshGuard technology from Paradox also ensures additional resistance from odors.
High polyester content makes the fabric durable and very effective against cold. Although polyester itself has moisture-wicking and quick-drying properties, the DRI-Release technology makes it dry four times faster than cotton. Something to keep in mind is that it has low spandex or elastane content and so you shouldn't expect it to be very flexible. However, the tights still give you a good amount of freedom when it comes to movement.
Furthermore, these are base layer pants, don't expect them to perform the same way as the other expensive choices mentioned in this article. They lack some crucial practical aspects such as pockets and reflective elements.
Pros: Lightweight, warm, dries faster, affordable
Cons: Not recommended for super cold temperatures
See the Paradox DRI-Release Baselayer Pants
9. Minus33 Franconia Bottoms

Fabric: 100% Wool
Fit: Regular
Length: Ankle
Weight: 8 oz.
Minus33 Merino Wool 803 Franconia Midweight Bottoms are something to consider if you are looking for a base layer to keep your legs warm while you go on a cold hike. The fabric is made of 100% Merino wool as the name indicates. However, this fabric has been added with additional qualities. Being 100% composed of wool, these tights have excellent moisture-wicking quality. It quickly absorbs the moisture from your skin and then this moisture evaporates out of the fabric. Wool can absorb up to 30% of its weight before feeling wet or clammy and provides better insulation from liquids than cotton and polyester material.
Merino wool also rejects bacteria naturally, hence, known as stink-proof. So foot fungus and false odor shouldn't be of any concern. The fabric of the tights is also resistant to fire and doesn't catch fire readily. If it does, it extinguishes by itself. The fabric doesn't stick to the skin like other synthetic materials. The Midweight Bottom has a UPF rating of 50+ as well-meaning solid protection from UV rays. The waistband is covered and sits high near the belly button. The crotch is gusseted which reduces stress between the legs. The ankle cuffs are also ribbed allowing for easy layering. The fit is not too tight. It is comfortable and allows for room to breathe with mobility. The fabric is also 100% renewable making it environmentally friendly as well.
Pros: The fabric regulates temperature beautifully, a less expensive wool option
Cons: The length is perfect but the waist is a bit large
See the Minus33 Franconia Bottoms
10. 32 DEGREES Women's Baselayer

Fabric: 90% Polyester, 10% Spandex
Fit: Snug-fitting
Length: Ankle
Weight: Not specified
As the name suggests, this legging is for those looking for something specially designed for comfort. Again, this is not something that you will wear primarily for hiking. This is a base layer that will keep you comfortable in the winter season. The loose comfy fit will not give you the irritating feeling of wearing something underneath. The fabric of the tights is made of 90% polyester and 10% spandex. The high polyester content makes it suitable for maintaining temperatures. The fabric of the tights is odor-free and quick-dry.
The fabric is lightly brushed on both sides to give a feeling of comfort and smoothness. The four-way stretch fabric allows for high mobility. These tights can be worn underneath any other clothing. The Acrylic-blends add to the warmth compared to cotton leggings. That all being said, if you want the performance of some of the more refined leggings on this list, then this pair is not going to satisfy you. This will get you through your activities, probably best for indoor light use like yoga, roaming around the house, etc.
Pros: Perfect for layering, 4-way stretch, warm, lightweight, dries quickly, breathable, ultra-soft
Cons: The material is thin and not intended to wear alone.
See the 32 DEGREES Women's Baselayer
11. Duofold Double-Layer Thermal Leggings

Fabric: 96% Polyester, 4% Spandex
Fit: Not specified
Length: Ankle
Weight: 9.4 oz.
The Duofold Women's Thermal Leggings are great products for hiking in winter. These leggings are available in 4 different categories that range from low warm fabric in the Duofold Thermatrix Thermal Leggings to a very warm fabric in the Duofold Women's Expedition Thermal Leggings which can be used in the winter. The fabric consists of 96% polyester and 4% spandex. It is woven to form a dual-layer that, in itself, works as an effective barrier against cold and makes it suitable for hiking in cold weather. The fabric is also slightly brushed which makes these leggings very comfortable to wear. The high content of polyester not only makes it durable but also very effective against cold. Polyester also ensures that the fabric is quick-drying and wicks away moisture such as sweat, from the body.
However, less spandex or elastane content means that it won't be as stretchable as others. Still, Duofold has managed to make these leggings 360-degree stretchable so they do not hinder stretchy movements. The basics are all there like a drawcord waist for adjustment and flat-lock seaming to prevent chafing. The fabric also has anti-microbial and odor resisting properties. However, things get tricky when it comes to fitting. However, there are no pockets, something that you should consider if you are fond of having pockets in your leggings.
Pros: Great for base layering, keeps you warm in mid 40s
Cons: The men's version is a little short but the women's version is just the right length.
See the 32 Duofold Double-Layer Thermal Leggings
12. Naviskin Fleece Lined Thermal Tights

Fabric: 90% Polyester, 10% Spandex
Fit: Not specified
Length: Ankle
Weight: Not specified
Naviskin is a company that focuses on the sports lifestyle. Their products are worth a look at if you are into casual outdoor activities in your daily life. The Naviskin Women's Fleece Lined Thermal Tights are a great pair for hiking in the winter. This is more on an affordable spectrum which provides you with most of what you need. The fabric of the tights is made of 90% polyester and 10% spandex. The polyester has the same properties as being durable, good at managing moisture, and also effective against cold. The fabric is brushed so feels very comfortable to wear.
The essentials are also present as the drawcord for adjustment, however, it also comes with an elastic waistband. Flat-lock seams are present to prevent chafing. However, the fabric doesn't have antimicrobial properties and odor resistance. There are also reflective elements that enhance visibility in low light. What distinguishes these leggings from the rest is that they contain multiple pockets for all your essentials giving you plenty of storage space. The side pockets are large enough to easily fit an iPhone and there are two zipped pockets at the back. So if you are looking for a pair with a lot of storage space, this is something to keep in mind.
Pros: Soft brushed fabric, side and back pockets, breathable4
Cons: A little short above the ankle.
See the 32 Naviskin Fleece Lined Thermal Tights
Best Hiking Leggings: Comparison Table
How to Choose Cold Weather Leggings for Hiking?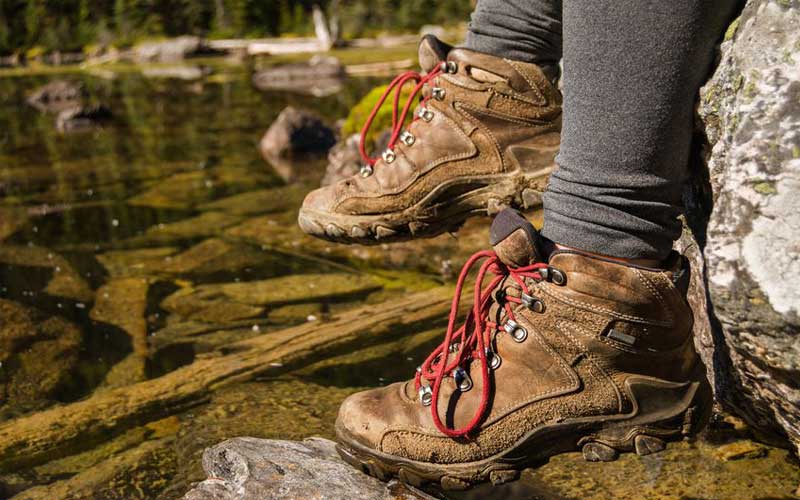 Many women are susceptible to making the wrong choice when it comes to choosing a pair or pairs of leggings. This not only leads to serious discomfort during the hiking trip but may also become the cause of acquiring diseases like flu if in case tights are unable to provide proper protection against the cold weather. Here are a few tips on how to choose hiking leggings for the cold weather to ensure that you make the right choice for your trip so that your trip remains enjoyable.
Comfort and Fit
The main reason that you choose legging for hiking over hiking pants is that leggings provide you with more comfort and an excellent fit. Without the fit, a pair of leggings is of no use. So why is this so important?
Unlike hiking pants which reduce mobility, hiking leggings have a form-fit ability that moves with you and makes you feel as if you are wearing nothing at all. This allows you to make long strides without problems. Leggings with a high content of elastane or spandex are ideal for this purpose. Leggings with a great fit are an investment in this aspect.
Most hiking leggings have a high-rise waistband which not only prevents slippage but also protects your lower abdomen. You should also keep an eye out for flat-lock seams which reduce chafing.
Even though a majority of brands offer flat-lock seams on their leggings, many cheaper brands do not. It is recommended that you should pay a few extra dimes for your comfort. Furthermore, brushed fabric is something to look for because it feels very comfortable.
Other things to look for in hiking leggings for comfort is the gusseted crotch. A gusseted crotch not only reduces stress between your legs, it prevents chafing between the legs as well after long walks and also prevents camel toes without the need of something under it.
Moisture Management
When looking for tights, always look for tights that get rid of moisture quickly, that is, they are quick drying. What happens is that if sweat manages to stay between your skin and tights during cold weather, it will result in temperature drops in your lower body. If the temperature rises and you start sweating, it will cause a rash or sores on your skin.
What you need are fabrics with a high content of polyester or nylon. These fabrics have quick-drying properties and also resist absorbing moisture which makes them ideal for hiking purposes. Brands also add their moisture-wicking technologies to the fabric of the leggings which also adds to their quick-drying properties.
Durability
Something to look for in a pair of leggings is durability. Durability is essential in hiking. The reality is, you can't expect the same level of durability from leggings as you can from a pair of hiking pants. They are just not meant for that much durability due to their thin fabric in comparison.
However, all is not lost. Science has allowed humans to develop synthetic fabrics that can provide a fair amount of durability even with thin layers. The most durable material to be used in the fabric is nylon. Leggings made of nylon would probably cost you more than other fabrics.
The other fabric that follows is polyester. Polyester is cheaper to manufacture, hence, you will find it more commonly and also relatively cheaper. Organic fabrics like wool and cotton are the least durable fabrics. Some brands add to the durability of their leggings by adding ceramics prints or other such materials.
Why should you NEVER go opt for cotton leggings?
Cotton is the worst material for any hiking trip because of one simple reason; it absorbs body and external moisture. If you are hiking in an area where it rains or snows, you would get wet and stay wet leaving you open to hypothermia and pneumonia.
Cotton traps sweat as well which becomes sticky after a while. You become less insulated and constant rubbing against the body gives you rashes and sores. Furthermore, cotton is also a perfect cultivation ground for bacteria which can cause infections. Please avoid cotton during hiking trips.