Best 6-Person Tents for Rain of 2020
Finding a good tent for camping can be challenging. Tents come in a variety of different designs and options. In this article, we have narrowed the myriad of choices down to the top 6-person tents for camping in the rain. These tents are easy to set up, spacious, and can be used in many relevant areas. They are comfortable to sleep in and they will keep you warm and dry in a downpour. As we know, a tent can make or break your vacation but a good, user-friendly, and feature-rich tent will always make your vacation a luxurious experience in the backcountry.
1. Marmot Limestone
Floor area: 83 sq. ft.
Peak height: 76 in.
Packaged weight: 17 lbs. 9 oz.
Packed size: 28 x 10 in.
Limestone is a lightweight 6 person tent by Marmot. It comes with color-coded poles and clips which make it easy to pitch. The tent comes with sealed seams and a full coverage polyester rain fly making it waterproof. It is ideal for rainy weather camping with the family.
It has a D shaped door at the back while a double door in the front. The rear door also has an overhead vestibule for storage. Vertical walls create more space inside for movement and together with the floor space, it gives enough room for all the occupants to move around instead of being cramped. A good airflow system keeps the interior well ventilated.
The floor space is wide enough to accommodate 6 people with very little extra space or 4-5 people with sufficient free space for gear. The footprint is not included but can be bought separately. The front door has a pocket on the inside to tuck away the opened door so it doesn't get in the way. The two doors allow for easy entry and exit from the tent without having to stumble or go over one another.
Pros: It gives good ventilation, especially for summers.
Cons: Not ideal for cold weather.
2. Big Agnes Big House Deluxe
Floor area: 78 sq. ft.
Peak height: 78 in.
Packaged weight: 13 lbs. 11 oz.
Packed size: 8 x 12.5 x 24 in.
The Big Agnes Big House 6 Deluxe takes nearly vertical walls, lots of headroom, sturdy waterproof construction and combines them into a tent that will remind you of home. At 8 x 9 feet, the Big House 6 Deluxe takes up a lot of space so make sure to clear a space large enough for your campsite. The tent comes in a convenient bag that allows for easy storage the tent and rainfly are separated as are the poles and the stakes.
Remember that with a tent this big it's important to stake it out. Do this first so that a sudden gust of wind doesn't make a mess of your setup. Feed the strong aluminum poles through the sleeves before setting them into the grommets. This makes it easier for one person to set up the Big House 6 Deluxe. Look for the matching color-coded pieces on the webbing and buckles to find out which way the rainfly should go on. Tighten up the straps and you're good to go. It's always a good idea to stake the guylines out on this tent if you're expecting wind gusts.
Fully set up and with the rain fly on, you'll see that the Big House 6 Deluxe is a storm-proof design. The fly covers each mesh panel while still allowing ventilation so condensation doesn't develop inside. On dry days, opening up the waterproof windows will let even more air through but not bugs. If it's been raining and you need a clean and dry place to take off your shoes, the attached to welcome mat is great just like at home.
Without the rainfly, you'll see the exposed aluminum poles. Notice the bend at about head height. This makes the walls nearly vertical until they form a ceiling over your head. That increases the livable volume inside over a dome-style tent. The polyester and mesh tent body is attached to the poles with clips and sleeves. There is a tall privacy screen in front and windows on the side let breezes pass right through. Inside, the waterproof and durable floor holds easily enough room for 6 campers.
If you want a camp in luxury, it will even fit a queen-size mattress with room to spare. Storage pockets with enough room for all of your gear are found all around the tent. Some of these are sized for tablets so a rainy day can become a fun movie night. The Big Agnes Big House 6 Deluxe feels like home. It's a cavernous tent with plenty of headroom but it's built for the backcountry and can take a beating. Bring the family they're going to love it as much as you will.
Pros: Good value for high-end tent, customizable
Cons: Extra add-ons increase price, front and back are exposed to elements
See the Big Agnes Big House Deluxe
3. Coleman Montana
Floor area: 84 sq. ft.
Peak height: 68 in.
Packaged weight: 16 lbs. 9.6 oz.
Packed size: 26.3 x 8.6 in.
This is a 6-person tent with enough space inside to fit 2 queen size air beds. The WeatherTec system along with the tub floor, inverted seams and corner welds give good waterproofing. The zippers are also covered, blocking entry points of water. The awning extends over the door and keeps the shoes and gear safe and dry.
The rainfly has sealed seams and uses a velcro attachment for the frame and covers the windows and doors. The tent itself is made of durable poly guard fabric. The windows are angled making it possible to keep them open for ventilation even during rain while keeping you dry. The airflow is also made adjustable thanks to the Vari Flo system.
The tent also features e-ports. The modified dome shape makes it easier to transport, set up and pack. The specially engineered frame design also contributes to its sturdiness in strong winds.
The tent comes with easy instructions for set up which can enable anyone to get the hang of it in 1 or 2 attempts. The InstaClip, color-coded pole sleeves, and the pin-and-ring system make the set up very easy. The packing is also fairly simple. A carry bag is also provided with the tent. For small items, storage pockets inside the tent are a nice addition. It's a good choice for a family trip.
Pros: Good waterproofing with average ventilation.
Cons: It can take a couple of tries to get the hang of the set up.
4. Eureka Copper Canyon
Floor area: 64 sq. ft.
Peak height: 84 in.
Packaged weight: 19 lbs. 4 oz.
Packed size: 26 x 7 in.
This is a cabin-style 3-season tent for four people. The walls are almost vertical with a peak height of 7 feet, making it very easy for even tall people in the group to move around without bumping their heads anywhere. E-port helps keep your devices charged whenever you have electricity available near the camp.
With a minimum weight of more than 18 pounds, this is not for backpacking but if you're going for car camping, weight is no big deal. The steel/fiberglass frame makes it sturdy and the pole sleeve, hubs, and ring/pin assembly make the set up quite easily. Of course, you don't expect to pitch a big 4 person tent like this alone, but if you want to, you can. There are two stash pockets on the top for storage and a gear loft on top.
The Copper Canyon has a mesh canopy on top. It also has four big mesh windows and a big door so ventilation is no problem. For rain, there's a rain fly that covers the top mesh part of the walls but not to the floor. Eureka claims it's your cabin in the woods and rightly so. It holds up well in rain and storms.
Pros: The tall height gives good space for standing and movement.
Cons: The floor material needs some reinforcement such as a tarp.
5. Marmot Halo
Floor area: 96.7 sq. ft.
Peak height: 75.5 in.
Packaged weight: 19 lbs. 5 oz.
Packed size: 25.5 x 14.5 in.
The Marmot Halo 6P gets its name from the massive overhead support pole system that creates a halo at the top of the tent. This is a massive rounded structure that makes this tent perfect for base camping or car-camping families. It has a whopping 96.7 square feet of interior space and a peak height of 76 inches. The Halo is a fairly easy tent to set up but I would certainly recommend practicing in the backyard before going out for your first trip.
You've got two long main poles that cross the tent corner to corner and slide through the sleeves. Once you prop those poles up, you can attach the halo poles to draw out the interior. There is a halo pole on the front and the back and that's all it takes. Once you've got those poles set up, stake everything out and you're good to go. I would recommend making sure that the sleeves and that fabric are evenly spread out along the pole sections before you try to prop up the tent. This will just help prevent any accidents.
Orienting the rainfly is quick and simple. You've got color-coded easy pitch clips and clips at each corner to make sure you've got everything aligned properly. There is a pole that goes into a sleeve on the rainfly as well to give you the maximum capacity in that front vestibule. The rainfly itself is a 68 denier polyester ripstop and it's got an 1800 millimeter waterproof polyurethane treatment. All seams are taped for waterproof protection. There are multiple vents that you can prop open or closed depending on how hot or wet it is outside.
The tent has two massive doors and vestibules. The front door has a roll-up style that lets you prop it open like an awning if you have accessory poles or you can just roll it and tie it back with these little lash points. The tent body itself is simple. You get a big floor at 118 x 118 inches and it doesn't force you to orient your sleeping system in any specific way. The walls are also nearly vertical thanks to that halo design and that gives you tons of headspace and shoulder room. The peak height is just over 6 feet so even taller people can stand up in here.
Pros: Set up is a breeze, lots of room, enough headroom for taller folks
Cons: Expensive
6. Big Agnes Flying Diamond
Floor area: 92 sq. ft.
Peak height: 67 in.
Packaged weight: 20 lbs. 6 oz.
Packed size: 9.5 x 13 x 23 in.
This tent has seen it all from crazy backyard campouts to epic road trips to Everest base camp. It's built as a 3-season+ tent meaning that it can hold up to harsh, high country winds, and snow. Despite its strength, the Flying Diamond 6-person tent has enough ventilation and versatility for family camping in fair weather too. With a tent this big, you're going to want a buddy helping you. Lay it out first and familiarize yourself with the different poles. They're color-coded red, light gray and dark gray to go along with the sleeves and colored webbing. Route the poles through the corresponding sleeves, insert the ends into the grommets and secure the clips. The rainfly is also color-coded. Throw it over top, fasten all the velcro straps to be sure the fly is centered then attach the clips, stake out the guylines and cinch everything down tight.
The dome-shape, the many guyline attachment points and the small mesh to fabric ratio make the Flying Diamond almost like a 4-season tent. When everything is all battened down, it'll keep out cold winds but if it's hot and humid, you can expose the mesh panels on the doors. Open all the vents and open both vestibules to let a cross breeze in. The front vestibule is larger than the back and it can be configured in a few different ways. Prop it up and hang out underneath in your camp chair. You can also roll it back or zip it closed. Inside, there's plenty of space to sleep 6 so cram the whole family in there. If you have six persons, you might want to stagger the sleeping bags. There's a space to change and privacy with the center zippered door or you can just play peekaboo with it when you're waiting out a storm.
The numerous pockets inside create a cozy home base. There are all different sizes so your gear is organized and up off the floor. If those aren't enough, gear lofts can be purchased separately and hung from the loops inside. Of course, the entire floor is taped sealed to keep out that rain. I'd recommend purchasing the custom-fit footprint to give extra protection to your floor. The stuff sack is super cool. It has pockets that separate the rainfly and tent body. The poles have their own pocket and the stakes are stored in a mesh zippered pocket too. Big Agnes even gives you a pole splint for field repairs. With all the features and reliability, the Big Agnes Flying Diamond 6 is truly your home away from home.
Pros: Well-designed carrying bag, great in wind and storms, two rooms, big and versatile vestibule
Cons: Complicated setup, lots of poles, shorter inside
See the Big Agnes Flying Diamond
7. Eureka Space Camp
Floor area: 83 sq. ft.
Peak height: 76 in.
Packaged weight: 17 lbs. 5 oz.
Packed size: 10 x 25 in.
Eureka Space Camp offers enough room for six persons along with the two large doors and vestibules that you need to make having half a dozen people in a tent manageable. Gear loft and interior pockets organize all the gear everyone brings along. The innovative front vestibule can be deployed in several ways including an awning.
To set up this big tent, you'll first spread out the body. As with most of these larger tents, it does not hurt to have a little help. Insert the heavy-duty pre-bent poles into the sleeves then seat the pole ends in the grommets. Clip the tent body to the poles, slide the thin straight poles through the blue sleeves and secure the ends to the grommets. Spread the rainfly over the tent using the colored buckles to orient it correctly. Attach the fly using the velcro tabs and the buckles. Finish by staking out the vestibules. A properly staked rainfly not only protects you from rain but also maximizes ventilation.
This 6-person tent offers more than 80 square feet of interior space and a lofty peak height of 76 inches. Two doors located at the front and the back make entry and exit convenient for a crowd of residents. The tent is supported by strong aluminum poles, which give the tent a sturdy dome shape. Ventilation is very important for a tent designed to shelter lots of people. Panels of no-see-um mesh keep the bugs out while allowing fresh breezes to move through. The high and low air exchange vents allow you to adjust your ventilation to suit different temperatures.
Each door has a vestibule yielding plenty of external storage space for dirty boots, wet clothes, and muddy dogs. The large front vestibule can be deployed in several ways. As you might expect the vestibule can be batten down in foul weather or rolled up to provide a nice breezy opening in better conditions. But that's not all. When the weather is really nice meaning the bugs are nowhere to be seen and the sun is shining, you can stretch the front vestibule door out like an awning. Now to take advantage of this awning configuration, you will need to purchase two of Eureka's HA or height adjustable poles and some guylines. Inside, a number of pockets and two gear lofts let you easily and safely store all the phones, earbuds keys, and other stuff that winds up on the floor of a tent.
This big tent has spaced the shelter up to half a dozen people. Pockets and gear lofts are perfect for organizing everybody's stuff. In nice weather, you can roll out the front door as a shady awning.
Pros: Enough interior height for taller people, great ventilation
Cons: Requires two persons to set up
Best 6-Person Tents for Rain: Comparison Table
How to Choose a 6-Person Camping Tent?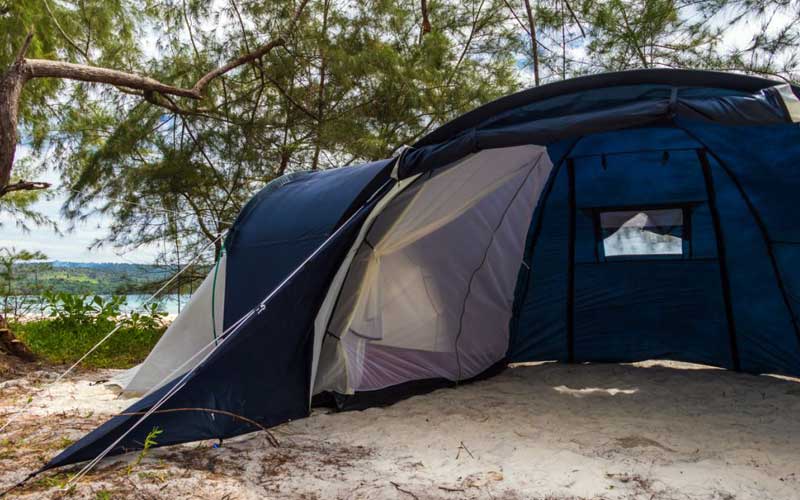 When you are buying a camping tent, you have a few things to consider.
Space: First, how much space you need? Tent names include the manufacturer's maximum recommended sleepers, but if you'd like to camp with your pets, think about sizing up.
Shape: Tent shape also affects space and camping tents in two basic shapes; cabin and dome. Cabin style tents give you more vertical walls, which translate to more livable space. They also often include features like room divider for privacy. Dome style tents tend to be easier to set up. Thanks to their simple design and their slopping walls can handle strong winds and weather.
Durability: Shelters made with high denier fabrics and durable aluminum poles last longer.
Features: Cabin tents include small pockets to keep books and hand lamps close at hands and some are compatible with optional gear lofts that increase storage space.
Storage: For easier access and more storage, choose a tent with two doors and two covered vestibules.
Rainfly: Tents with rainfly which only cover the roof, allow for great airflow and unobstructed views. Tents with full coverage rainfly can be guyed out to increase the strength and provide protection from the elements. You can also roll the fly out of the way to let the sun in and back down in the rain or at night.
Conclusion
Whether you are going camping for a weekend or an extended backcountry adventure, the right tent can make the difference between fun and frustration. There are several types of tents available depending on what you need. Tents are generally measured by a recommended number of occupants such as a 4-person or 6-person tent. Keep in mind that this number doesn't take into account space for gear or extra room for lounging. It's handy to have a tent that is larger than you think you need. To stay organized, look for tents with integrated closets, gear lofts or handy storage pockets. Depending on the time of year you're planning to use your tent, you will want to choose something that is rated for the weather you will be facing.
Tents that are rated for 3 seasons are made for spring, summer, and fall use with additional ventilation for comfort and hot weather. Tents rated for 4 seasons have higher waterproofing ratings and stronger poles because they are made to handle rain, high winds, and even snow. If you are going to camp during wet seasons, look for these features.