Best Tents for Queen Size Air Mattresses
When it comes to going camping, you want to make sure that your family is going to be comfortable, right? Or maybe you want to go camping entirely on your own, but you still want to have plenty of space to spread out. In that case, you want a tent that you can put your queen size air mattress in. But just what are these tents? We think we've found the best picks and we're going to help you decide which one meets your needs the best.
So here is the list of top tents that will fit a queen size air mattress.
1. Big Agnes Big House
Floor Dimensions: 92 x 90 in.
Peak Height: 70 in.
Weight: 11 lbs. 2 oz.
Packed Size: 26 x 13 in.
If you've ever wanted a tent with a more substantial ceiling while also giving you more side space, the Big Agnes Big House could be a tent for you. With high volume box design and large openings for the doors, the Big Agnes Big House Deluxe checks a lot of boxes, including fitting a queen size air mattress. The storage pockets are built into the corners of the tent to prevent pull from the weight of the objects that can fit items as large as iPad's.
It comes with an attached welcome mat to kick your shoes or hiking boots off outside and an extensive clip and Velcro system to attach the tent frame to the material. The fly and floor have been waterproofed, and the seams have been taped over to help keep you dry. It packs into a briefcase-style carry bag for simple movement from car to the site.
Pros:
Tall center and sidewalls for more room to move around and more gear
Mesh baskets in corners reduce the chance of drip
The welcome boot mat is a nice perk
Cons:
This tent is not suitable for backpacking with the carry bag and weight over 11 pounds
Sides of the tent are not waterproofed, the only floor and fly
Aluminum poles help keep tent locked down, but the design means the material can move a lot in the wind
2. Kelty Sequoia
Floor Dimensions: 98 x 88 in.
Peak Height: 78 in.
Weight: 19 lbs. 8 oz.
Packed Size: 26 x 8 in.
The Kelty Sequoia Tent is a four-person mesh sidewall tent with an oversized door to facilitate easy access to your belongings and sleeping area. It features lightweight steel/press-fit poles and is meant for three-season camping, with the mesh upper walls and nylon lower walls keep the overall tent weight extremely low, less than ten pounds fully assembled.
The rain fly goes all the way to the ground to ensure you are protected from wind and rain while allowing limited access for ventilation. The pole clips have grommet inserts with color-coded pole tips and clips for quick setup. This tent is also able to be assembled in areas where stakes aren't permitted, and that can be invaluable to some campers based on their location and conditions around them. The rain fly is split in the middle for direct access to your door.
Pros:
Low cost, meaning easy for everyone to start camping
Waterproofing is impressive for the design of the tent
Build quality appears to be above the price point
Cons:
Without guide wires on the rainfly, moisture can build up near the bottom of the mesh
The floor material is thinner than other competitors
Steel/press-fit poles have a lot of giving naturally meaning wind resistance is not the best
3. Eureka Copper Canyon
Floor Dimensions: 96 x 96 in.
Peak Height: 84 in.
Weight: 18 lbs. 10 oz.
Packed Size: 26 x 7 in.
The Eureka Copper Canyon tent is a large frame tent for your sleeping needs. With massive walk indoors and cabin style nearly vertical walls, the Eureka Copper Canyon will easily fit a queen-sized air mattress. The framing is made from steel and fiberglass to help keep the tent steady while the wind blows outside.
There is also Eureka's unique E! Power Port to bring an extension cord inside the tent to charge your electronics. The minimalist rainfly means you don't need to reach down to open the fly, and you can easily approach your tent with your gear. This tent also has an overhead hanging storage pocket that attaches to the framing, which has a maximum height of seven feet at the center.
Pros:
Extremely high ceiling for a tent to allow for easy movement without having to crawl around
Sturdy Steel pole bases mean less flex in the elements.
Large door entrance makes it easy to get into your tent
Cons:
This tent is heavy at over 18 pounds, making it difficult to carry if your site is far from your vehicle
The steel pole construction makes setup more complicated, adding a lot of time to your camp breaking
Eureka doesn't reinforce their floors like many other brands, meaning you will want to be cautious when setting it up.
4. Marmot Limestone
Floor Dimensions: 100 x 86 in.
Peak Height: 61 in.
Weight: 10 lbs. 10 oz.
Packed Size: 27.5 x 10 in.
The Marmot Limestone 4 is a perfect tent if you are looking for a high-quality tent for your queen size air mattress. It comes with a polyurethane-coated nylon floor to keep your floor dry and is also taped at the seams on the fly to ensure you stay dry and that the wind won't shake the tent much. There is also Marmot's unique high to low venting system to keep air circulating in between. There are a lot of other things to like, including the aluminum construction poles that stay steady when the wind is blowing hard.
The setup is simplified by the "easy pitch" color-coded clips that make installation a breeze. Also, there is adequate pocket storage for your trinkets to keep them elevated and easy to grab. Overhead there is a headlamp shade pocket to better provide ambient light. It stays quiet at night with their jingle free nylon zipper pulls that ensure you don't make a lot of noise when the tent shakes.
Pros:
Extremely high-quality construction
Aluminum poles enhance strength
Waterproof all around with polyurethane coating
Cons:
High upfront cost
May take a couple tries to figure out setup system
Nylon zipper pulls are unique but a weak point
5. Coleman Sundome
Floor Dimensions: 108 x 84 in.
Peak Height: 59 in.
Weight: 9 lbs.
Packed Size: 23.8 x 6.4 in.
The Coleman Sundome is very basic and easy to use a tent that can hit most of your basic needs for a low price. When you get the model to fit four or six people, it can easily fit a queen-size bed inside. This tent is tested to withstand wind and rain at up to 35 miles per hour when correctly set up. It also comes weatherproofed with a hardened floor and welded and inverted seams. With easy setup time estimated to be about 10 minutes, you can be ready to go in no time.
The Sundome model also has a built-in "E-Port" that allows you to snake an extension cord in so you can keep your electronics charging inside while you sleep. It also comes with ventilation ports to help you stay comfortable at night. This tent is also very affordable, meaning very little upfront cost.
Pros:
The waterproof base is very helpful
Ventilation and E-Port are unique for this price range
The bag is not super stingy with how you put it back
Cons:
Tent poles stress in moderate winds, hurting piece of mind
The tent is not waterproofed above the base and rain gets in when it is also windy
Construction of hardware is not very high quality
6. ALPS Mountaineering Lynx
Floor Dimensions: 102 x 90 in.
Peak Height: 52 in.
Weight: 7 lbs. 12 oz.
Packed Size: 23 x 6 in.
The ALPS Mountaineering Lynx 4 Tent is perfect for your camping expedition. It is large enough to fit a queen size air mattress through the wide D shaped doors on either side of the tent. Its coverall rain fly is UV resistant and waterproof to allow the occupants to get covered from the elements in the vestibule or to put excess gear when needed.
The floor has a 2000mm Poly Taffeta coating to keep the moisture on the outside. The seams are sealed to keep them dry as well. The tent poles are aluminum to keep them from shaking in the wind and stay put in extreme conditions. The ALPS Mountaineering Lynx has the polyester-coated to resist UV damage and remain tight with buckle attachments. The zippers are also large enough to ensure heavy-duty seals when stressed.
Pros:
Coverall rain fly protests all users and gear from the elements
Built at a quality above the price point
High-quality aluminum poles keep the tent locked down
Cons:
Cone shape leads to less total space
A lot of clips to assemble adds time
No window covers may lead to morning moisture gathering on mesh
See the ALPS Mountaineering Lynx
7. Coleman Cabin Tent
Floor Dimensions: 96 x 84 in.
Peak Height: 59 in.
Weight: 9 lbs. 3 oz.
Packed Size: 38 x 18 in.
The Coleman Cabin Tent with Instant Setup is one of the easiest cabin style tents to set up with Coleman's unique design that keeps the poles attached on tear down. This tent is large enough to fit a queen air mattress while keeping you comfortable. For the size of this tent, the price doesn't compare, as this model is extremely low cost for a cabin style tent. With that, you get Coleman's welded corners and inverted seams to reduce the chance of water getting in.
This is a shorter cabin tent with a center height just under five feet. The rainfly is not included in this tent but is a low cost add on to help ensure you stay dry in adverse conditions as well. This tent also features Coleman's DarkRoom technology that blocks up to 90% of light coming into the tent and helps keep the tent cool in the summer. This Coleman tent comes with an expandable carrying bag to make teardown easy and less refolding to fit into the sack.
Pros:
Extremely low cost
Cabin setup in as fast as one minute
Coleman DarkRoom design helps keep the tent cool and dim
Cons:
No rainfly included, although there are no exposed mesh areas
Connections, when attached properly, do not stop sagging
Fiberglass support poles are prone to bending
8. Marmot Halo
Floor Dimensions: 96 x 96 in.
Peak Height: 59 in.
Weight: 13 lbs. 10 oz.
Packed Size: 26 x 14 in.
The Marmot Halo 4 tent is a large, high-quality tent that can also fit your queen size mattress. It's a smaller family camping tent but it still gives you lots of space on the inside while not tall enough to give full standing room for adults. It will definitely be more than comfortable than most typical camping tents. This tent comes with an included rainfly to keep you dry when it is damp and also give you privacy. It has two doors and vestibule sides for easy access from both sides of the tents. The bent out aluminum poles gives you a larger vertical space for more movement.
The seams are taped to assist in keeping the elements out and your comfort in. Inside you'll find convenient pockets to keep everyone's handheld gear in an easy to reach the spot. The clips, poles, and fly are all color-coded for easy pitch setup to decrease confusion as to how to assemble the tent. The Marmot Halo 4 weighs around 13 pounds and 10 ounces when fully assembled with the rainfly.
Pros:
High-quality construction with aluminum poles and waterproof seams
Large enough for family camping
The cubic design allows more room to move
Cons:
The high price means it's an expensive buy-in
Even with color-coded items, it may take a couple tries to get right
Zippers are tight and may be hard to seal
9. MSR Papa Hubba NX
Floor Dimensions: 93 x 84 in.
Peak Height: 44 in.
Weight: 5 lbs. 15 oz.
Packed Size: 21 x 7 in.
The MSR Papa Hubba NX backpacking tent is a unique four-pole tent for camping that weighs an extremely light six pounds with the rainfly attached. This is a freestanding tent with 53 square feet of floor space but is shorter at just 44 inches. This tent also comes with an 11 square foot vestibule on both sides of the tent with a door, adding precious space for gear to be stored. It also has a footprint pad sold separately if you're looking for an even more minimalist shelter.
Each fabric piece is coated with an Xtreme Shield Waterproof coating, which claims lasts three times longer than other coatings. The MSR brand also comes with a three-year warranty, above and beyond most brands in the industry. This is a three-season tent as the mesh sides can't be covered on the inside, meaning that in cooler weather, the heat won't stay in as long.
Pros:
Lightweight construction makes this tent ideal for backpacking
Large floorplan, with vestibules to fit a queen air mattress
Waterproofing is above and beyond other tents
Cons:
This tent is more expensive than many in the market are
The footprint must be purchased separately to do minimalist camping
The stuff sack is small and can be difficult to make fit
10. Kodiak Canvas Flex-Bow
Floor Dimensions: 120 x 120 in.
Peak Height: 78 in.
Weight: 73 lbs.
Packed Size: 30 x 15 in. 50 in. poles
If you're looking for a more traditional material for your tent, the Kodiak Canvas Flex-Bow Deluxe is one you should definitely look at. Made out of a watertight cotton canvas, this tent allows you to be isolated from the elements with enough room for most people to be able to stand in. At six feet six inches tall for the ceiling, it really is a unique size to have for a six-person tent. It is large enough to fit a queen size air mattress in and allows you to walk around it.
The tent features two D shaped doors on opposite sides of the tent and large mesh screen windows as well. It has funnel-flow air vents near the top to keep air moving in both directions through the tent. On the front is a lounging awning to help keep you covered as you enter. The poles are made from heavy-duty steel with spring reinforcement.
Pros:
Large awning and doors for easy access
Tall interior means less crouching
Framing system keeps the tent taut and locked down
Cons:
Very expensive and heavy
Seams at the bottom have a tendency to tear under stress
Weird corner angles mean debris can accumulate on the floor edges
See the Kodiak Canvas Flex-Bow
Best Tents for Queen Size Air Mattresses: Comparison Table
How to Choose the Perfect Tent for a Queen Size Air Mattress?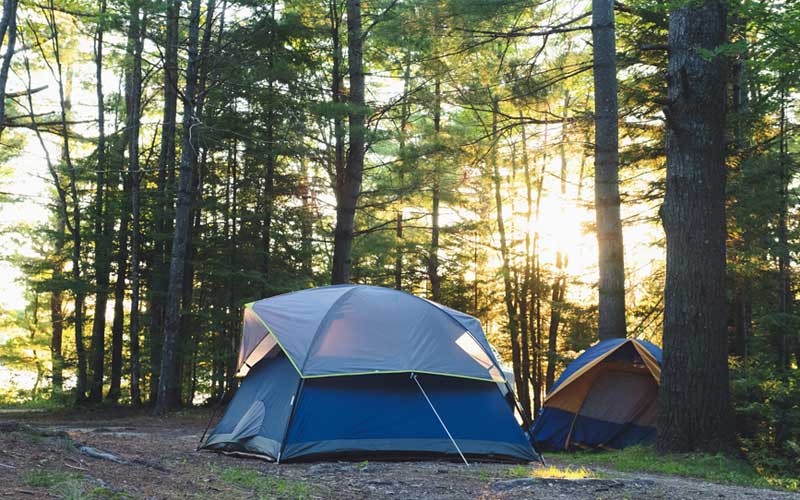 When choosing your tent, you want to look at more than just the size of the tent (though that's something we'll talk about too). You want to make sure that the tent you're choosing will accommodate your needs and your camping style. So, let's take a look at some of the most important things to consider and how you can make sure you're getting the best tent, regardless of the size that you actually need.
What size do you want?
You want a tent that is going to fit your queen size air mattress, but do you want it to be larger than that? Getting a tent that will simply hold the air mattress is one thing. If you want to have space around the outside for someone else to sleep or for your belongings or anything else, that's going to mean even more space. The typical air mattress requires you to have a four-person tent at the smallest, but that's not going to give you much space around the sides for moving.
If you need anything other than the mattress in your tent, you need a larger tent. That might mean choosing a much larger tent if you need storage space for several items or if you're in need of additional sleeping space. Remember to look at both the width and length of the tent as well since this size mattress is quite large all the way around.
Is it easy to set up?
Next, make sure you can set up the tent easily enough. You don't want to spend an hour just getting your tent staked in and ready to go because then you have to get your air mattress in and get it set up. Also, make sure the tent you're looking at has a large enough door to get that mattress in and out. Of course, you're going to want to inflate it inside the tent, but a queen size mattress, even deflated, can be quite large. You don't want to be struggling to get it inside the tent.
Is there a floor included?
You probably don't want to put your air mattress directly on the ground. Though you might not think about it at the time, there are a lot of stones, sticks, and more on the ground wherever you might be camping. While the air mattress will keep you up and off of those, it's going to be directly in contact with those items. That means you might feel comfortable, but your air mattress could suffer damage, which could result in it breaking or popping. You're definitely not going to be so comfortable if you wake up on a deflated mattress, but a floor can help with that, providing an added layer of protection.
What kind of doors and windows are included?
Most tents that are made for more than one or two people have a second exit, but that's not always the case. You want to know how many doors you'll have, as well as how many windows for added ventilation and comfort. Also, you want to know the style of the doors and windows, as this will affect how easy it is to get in and out, especially with a large air mattress inside the tent. You want to be able to move around comfortably and still get in and out as needed.
How tall is the tent?
An air mattress can be thick and definitely tend to be quite thick. If that's the case, you want to make sure you have enough room in your tent to sit up comfortably. You may want to be able to stand up small children to help them get dressed or ready for the day or night. No matter what, you want to know the height of the inside of the tent so, you can plan just how you're going to get comfortable. If the height of your air mattress is going to keep you from being able to sit up or stand up, then you may want to reconsider the tent you choose.
Conclusion
When it comes down to it, you want to have a great quality tent that you can enjoy camping in. But you also want to make sure it has enough space for your mattress. Whether you're camping with others and want everyone to have space or you're going on your own and want to be comfortable, you want the perfect tent. So make sure you're not missing out on anything. With these tents or the tips we've included, you can choose the best option for you.