Best Budget Backpacking Packs of 2021
A good pack is an important piece of gear for any backpacking trip. If you think about it, a backpack can easily break your trip if it doesn't fit you well. So I have tested and reviewed some of my favorite backpacks and rounded up a list. These packs will help you stay organized and make things much more quick and efficient while you're on the trail. They are great for budget-conscious hikers on multi-day trips and are designed to haul big loads.
So here is the list of top budget-friendly packs that will help you carry heavy loads and organize your gear for your next big trip.
1. Osprey Volt

Weight: 3 lbs. 14.7 oz.
Gear Capacity: 60L
Fabric: 210D ripstop nylon
Access: Top/front
Osprey Volt is the pack that you can take into the backcountry for a few days. Volt features an adjustable suspension system storage space for trekking poles, and an included rain cover. The pack has a lightweight frame and an HDPE frame sheet that provides support during a hike. The suspension system is adjustable and it allows adjustability ranges from 17 to 22 inches. This range can fit a wide variety of people. For ventilation, there's a spacer mesh on the harness and the back panel, which helps you keep cool and dry. The hip-belt offers the Fit-on-the-Fly system with a dual-density construction. It provides extra comfort and a supportive fit.
The Volt 60 offers a volume of over 3,600 cubic inches in the main compartment. There are some other storage options that include 2 zippered pockets on the lid, a stretchy pocket on the front, and 2 zippered hip-belt pockets for small belongings such as your cell phone. The pack is also hydration compatible with up to a 3L reservoir. There are also two side pockets for water bottles. With this backpack, you also get a zippered sleeping bag compartment with a removable divider. On the outside, the pack features some attachment points and removable sleeping pad straps in addition to Osprey's Stow-on-the-Go system, which allows you to put your trekking poles away without even slowing down.
What I like: Solid set of features, comfortable shoulder straps, versatile
What I don't like: The main compartment is narrow, side pockets are a little too tight for water bottles
2. Granite Gear Crown 2

Weight: 2 lbs. 4.7 oz.
Gear Capacity: 60L
Fabric: 210D nylon
Access: Top
Granite Gear Crown 2 is an ultralight yet ultra-comfortable pack designed specifically for the minimalist thru-hiker. It's got durable fabrics but a strippable construction that allows it to come in at an extremely low weight. With all of the included pieces, it's just over 2 pounds but it can be stripped down to weigh just around 1.6 pounds without the lid and frame sheet.
The harness and suspension system on this pack is fairly minimal. You're getting Granite Gear's Vapor Current Mark 2 suspension system. This is an upgraded version of their tried-and-true VC system. You get dual-density foam minimalist shoulder straps and a minimalist hip-belt. The massive benefit to this hip-belt is the RE-FIT system. You can detach the belt and completely change the sizing. There are easy indicators for sizing based on your waist measurements. It ranges from 26 to 42 inches. The back panel itself is a molded plastic material with perforations for weight savings; it's covered with foam to give you some padding and some comfort. You can even remove that frame sheet completely to reduce the pack weight as I mentioned before.
With the frame sheet installed, this pack has a max load rating of around 35 pounds. Finishing up on the back panel side you'll get two large hip-belt pockets and a sliding sternum strap. I will say that the pack doesn't have any torso ranges or true adjustment so pay close attention to the recommended torso length before jumping into this one. Granite Gear sizes it for users with torsos ranging from 18 to 21 inches.
What I really like about this pack is the opening. You'll get a traditional lid but it's not necessary you can easily remove that and leave it behind for weight savings. Under that lid, the pack uses a roll-top design. This allows you to extend the bag to allow for extra gear or you can compress it down nice and small. With the use of all of these exterior compression straps, you can change how big or small the backpack is. Thru-hikers will definitely understand the need for a pack that gives you growth and shrinks when you deplete your food and resupply while hiking those long trails.
The majority of the pack is pretty simple and pared down. On the outside, you've got a 100D and 210D high tenacity nylon. You'll get great abrasion-resistance and durability considering the overall weight of the pack. There are a few lash points on the exterior of the pack as well and stretch side pockets for water bottles. The pack is hydration compatible and there's an internal sleeve to hang your reservoir and a port at the top side to route that tube.
What I like: Super lightweight and streamlined
What I don't like: Doesn't perform well with heavy loads, less padding
3. Osprey Rook

Weight: 3 lbs. 8.5 oz.
Gear Capacity: 65L
Fabric: 600/1000D nylon
Access: Top/bottom
Osprey Rook offers you enough space to carry days' worth of gear into the backcountry in addition to a breathable adjustable suspension system and tough trail-worthy construction. This full-featured pack is budget-friendly, which makes it a perfect choice for beginners taking a big trip. The pack's AirSpeed suspension uses a 4mm light wire alloy frame and a high tech plastic frame sheet to provide flexible but strong support for your load.
The tensioned mesh back panel, the mesh on the shoulder panels, and the hip-belt help keep you drier and cooler during your hike. With a torso adjustability range of 17-22 inches, you can adjust the suspension system to fit. Load lifters and an adjustable sternum strap let you dial in for the best fit.
The Rook is a top-loading pack with an internal volume of over 3900 cubic inches. On the inside, you'll find an integrated pocket, which allows the pack to accommodate any reservoir of your choice up to 3L. In terms of other storage options, the lid has a zippered pocket for things like GPS units or paper maps.
Side mesh pockets are great for bottles and there are loops on the front and lid providing all kinds of attachment opportunities. Upper and lower compression straps snug down the pack for a better ride but we all know that they can be used lash stuff to the outside of the pack as well. In addition, there are two removable sleeping pad straps.
The hip-belt has two zippered pockets for keeping small items secure. This pack has a horizontal zipper to access the lower portion of the pack. This is usually used for sleeping bags but you can use the divider to separate and organize your gear in any way you want.
The Rook is built for backcountry adventures. Being construed with tough 600-denier fabric, the bottom is reinforced with even tougher 1000-denier fabric. Osprey also included a rain cover so you'll never find yourself without protection in bad weather. This pack offers Osprey's adjustable comfortable frame, lots of storage space, abrasion-resistant construction, and pockets for gear big and small.
What I like: Bottom access, comes with a nice rain cover
What I don't like: Access to the top lid is a little difficult, minimal features
4. Gregory Zulu

Weight: 3 lbs. 11 oz.
Gear Capacity: 55L
Fabric: 210D nylon
Access: Top/panel
Gregory Zulu is ready for cold weather gear-intensive day hikes or summer overnights. This pack has more than 2300 cubic inches inside, an adaptable suspension, a flexible comfortable hip belt, and two entry points for grabbing your gear. The alloy perimeter frame has a fiberglass anti-barreling cross-stay, which means that it won't puff out like a barrel when stuffed full. The free float suspension features a 3D comfort cradle hip belt with dynamic flex panels that move with you. The pull forward hip belt design makes it easy to get a snug fit.
Gregory makes this pack in different sizes to suit different people. The pack suspension also is adjustable giving you 4 inches of built-in adaptability to achieve the best possible fit. To help you stay cool and dry on the trail, this pack has an open-air ventilated back panel with moisture-wicking mesh and die-cut shoulder straps. The sternum strap and the load lifters are adjustable to dial in the fit. The sternum strap also includes a whistle.
The main access is to the fixed lid under which is a protective spindrift collar. You can also easily reach the interior through a U-shaped zipper on the front of the pack. Inside, you'll find the hydration pocket, hose port, and a clip design to fit quickly and easily onto Gregory's 3D Hydro reservoir, which is available separately.
There is a pocket on the top of the lid from apps or gloves or other small stuff. A pocket on the bottom of the lid holds the included rain cover with some room leftover. There is a stretch mesh pocket on the front for bulky or wet stuff. There are two side stretch mesh pockets with pass-through. This means that the compression strap runs behind the bottles that allow you to tighten the straps without squishing your bottles and also pull the bottles out easily when the compression straps are tightened down.
A strap and bungee on the shoulder strap hold your sunglasses securely. There are attachment points on the lid to lash extra stuff to the outside of the pack. A flexible hip belt and an adaptable suspension give this pack a comfortable ride. A complimentary rain cover keeps the contents dry when the weather isn't.
What I like: Features to weight balance is very good, comfortable suspension
What I don't like: Offers less gear capacity than some similar weight options the lid is not removable
5. Osprey Exos

Weight: 2 lbs. 11 oz.
Gear Capacity: 58L
Fabric: 100/210D nylon
Access: Top
If you're looking for an ultralight minimalist pack but don't want to sacrifice comfort, look no further. The Osprey Exos is the perfect option for you. These Exos packs have become favorites among the ultralight and through hiking community and for good reason. You'll get an incredibly comfortable pack at a low weight that's backed by Ospreys incredible guarantee. The Exos gets its low weight from all of the different materials that make it. You'll get a 100-denier fabric throughout the pack but a 210-denier bottom. This gives you a fabric that's more durable than some of your other backpack options but not significantly heavier.
The framing is a thin 4mm aluminum that extends around the whole perimeter. Tensioned along that framing is this soft mesh material that's so comfortable. Some other packs have a more abrasive mesh material along with the back panel but the Exos packs have this soft wide open mesh material. It wicks moisture and dries quickly.
The carry system uses Ospreys Exo form components. Basically, they're fixed to the pack but they're made with stretchy material so they conform to your shape while you move. The padding and mesh around the belt and shoulder straps are soft and molds and flex as well. The pack doesn't have any adjustment, they do come in different sizes so make sure you get the one that best matches up with your torso length.
No matter what size you get, the pack weighs right around two and a half pounds. While Osprey did pair down this pack to minimize weight in bulk, they still include the Stow-on-the-Go trekking pole system on the shoulder strap. The access for the pack is only through the top. It's fairly small so you don't need much more. The lid has some storage but if you want to strip weight and minimize, even more, you can leave the lid at home. Osprey builds in a flap jacket cover with this pack to protect the opening.
Another way they shave weight is by thinning out the straps they use on the pack. The compression straps are minimal and they're rooted in a way that minimizes the need for extra stitching you can also completely remove those straps if you don't want or need them.
Some of the exterior features that you get are also pretty smart. You'll get stretched side pockets that are really deep and a big front mesh dump pocket for rain gear or other stuff. What I like about these pockets is that you get a reinforced material not just mesh. I have a tendency to be a little rough with the stretch mesh pockets so by adding this reinforcement Osprey is giving me peace of mind to those more delicate areas. You'll also find the loops placed throughout the front where you can lash additional gear if you need to.
What I like: Great pockets, comparatively lightweight
What I don't like: Limited adjustability, average durability
6. Kelty Coyote

Weight: 4 lbs. 13 oz.
Gear Capacity: 65L
Fabric: 420D polyester
Access: Multiple
Kelty has taken the tried-and-true Coyote pack and made it smaller and more versatile for backcountry outings. The Coyote is loaded with features from top to bottom that make this a great value pack for the traditional backpacker. One of the things that Kelty is known for is the reliable and durable construction they offer with their gear. These Coyote packs are no exception. They're not the lightest weight materials out there today, but Kelty isn't aiming for an ultralight pack here, they're building reliable durability.
The framing is an HDPE frame sheet with a single aluminum stay that will help drive the weight down to your hips. The hip-belt is also HDPE reinforced so it can handle heavier loads without buckling or folding. Throughout the entire back panel, Kelty is incorporating a large hex mesh material. Under that, there is ample padding to keep you comfortable even under heavier loads. That hex mesh helps to wick moisture and pulls the sweat away from your back to help you stay comfortable all day long.
Accessing the pack is pretty straightforward. You do have a traditional lid to the pack that's going to provide extra storage as well for the top. That lid can even entirely be removed and left at home or brought along. It doubles as a sling pack so it's great for taking on quick day trips away from the campsite. On top of the top access, you do get front panel access with this pack as well which lets you access your items without having to dump everything out of the top of the pack.
What I like: Many ways to access the pack, lots of adjustments
What I don't like: Heavy and not very comfortable
7. Gregory Stout

Weight: 4 lbs. 13 oz.
Gear Capacity: 65L
Fabric: Polyester
Access: Top/bottom
The stout has a nice flexible suspension system. Gregory calls this back system the Trailflex adjustable suspension system. It's built on a sturdy spring steel frame and a cushioned ventilated back panel it effectively takes those lighter weight loads and transfers it right down to the lightly padded hip-belt. The harness is highly adjustable and can fit a wide range of different torso sizes. The pack doesn't come in different sizes so this is how you're going to get that good fit. The hip-belt is essentially fixed and it won't adjust that much so unfortunately, it's not going to fit everyone out there. The pack does, however, host a load of features for the day hiker or overnighter.
You've got lots of organizational pockets. Hip-belt pockets are a great place to throw some extra snacks or your cellphone. I like to keep snacks there because it's nice and easy to access those so you can eat while you keep hiking. On the lid, you've got some extra organizational options. The lid is fixed to the pack so it's not floating and removable. The sides of the pack both have a stretch pocket you can do the traditional thing and put a water bottle in there or you can store some other items.
The pockets are fairly deep and you've got compression there to hold things tight. You've also got a front stretch pocket with a buckle. This is great for that extra layer whether it's an insulator a rain layer or something like that. There's also another zippered pocket in here that holds an included rain cover. It's tucked right behind there. This is an awesome added value to keep your gear protected when foul weather rolls in. What I think is pretty cool about that pocket it's pretty simple and it might seem silly where most rain cover pockets are in an inconvenient location. This one isn't. It's conveniently tucked right under a frequently used pocket and can be used for smaller items if you decide to leave that rain cover at home.
Access to the pack is fairly standard. You've got a top-loading design with a fixed lid. There's also a bottom compartment as well so you do have lower access but there isn't any divider. It is all access to the same pocket. There are sleeping pad straps down at the bottom so if you are taking this out on an overnighter you, can lash your pad there or you can also use that to hold other items. You've also got two loops and bungee tie-offs. If you want to use this pack for some winter climbing you can lash some ice axes or tools to the outside.
What I like: The minimal design is very effective, great value, good balance of weight and features
What I don't like: Nothing stands out, there are some unnecessary straps
8. Deuter Futura Vario

Weight: 4 lbs. 9 oz.
Gear Capacity: 60L
Fabric: 210D nylon
Access: Top/bottom
Some packs are focused primarily on weight savings and others concentrate on load support and stability. This pack strikes a nice balance between the two and is a great option for weekend outings or multi-day backpacking trips. The pack is equipped with Deuter's AirComfort Sensing Vario suspension system. It has a flexible spring steel perimeter frame, strategically placed and supportive foam, and an embedded mesh back panel. This design maximizes support but it still allows ventilation so you stay dry and comfortable.
The packs VariFlex system offers adjustability for torso lengths ranging from 15 to 22 inches in length. Padded adjustable shoulder straps and a beefy pivoting hip-belt enhance load stability. Load lifter straps and a sliding sternum strap help you dial in fit. Standard storage is just over 3,000 cubic inches and an integrated spindrift collar expands so you can carry over 3,600 cubic inches of gear. The height of the lid can be adjusted to accommodate that expanded storage.
The pack has two compartments; the main pack bag can be accessed through the top or also in the front with a luggage-style opening. There's also a separate front accessed sleeping bag compartment. The pack has a large front stretch pocket, side bellows pockets, internal and external lid pockets, and zippered hip belt pockets. Other features include compression straps, ice axe and trekking pole loops, and an integrated rain cover. Two sides stretch pockets are ideal for carrying water bottles and an internal sleeve and tube exit ports make the pack hydration compatible. Note that a hydration system is not included.
What I like: Many useful pockets, great for heavy loads, easy access to the top lid
What I don't like: The harness and belt are hard and not very comfortable
Best Budget Backpacking Packs: Comparison Table
How to Choose a Backpacking Pack?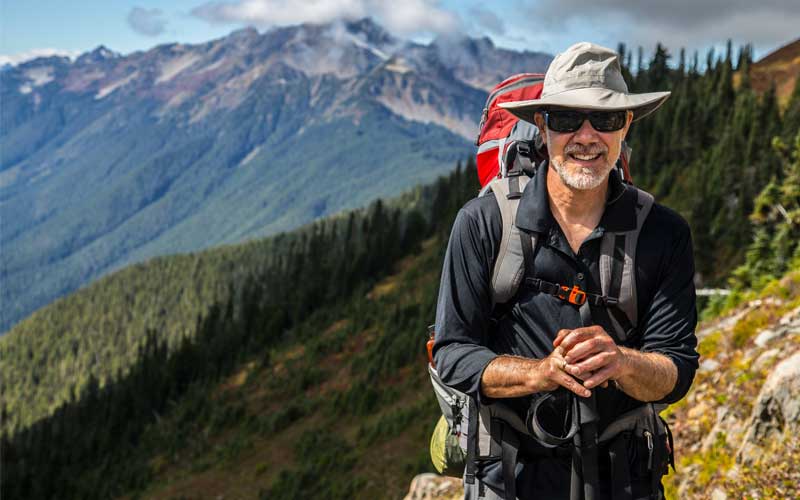 How to choose the right pack for backpacking? Basically, what I want to do in this section is give you an idea or some discussion points to consider when you're purchasing your backpack. Whether it's your first backpack or you're looking to upgrade from something that might be a little bit older.
Fit
For me, the most important thing in choosing a backpack is how the pack fits your body. The torso length is the most important thing to consider when it comes to fit. How long is your torso and what pack is going to fit your torso length are key to get the perfect fit. If you're not paying attention to that aspect when you are looking for a packed purchase, you're going to have a miserable experience.
When you go try on a pack at any store whether that's REI, Cabela's, or any other outdoor store, make sure that you get the ability to not only try the pack on to make sure that it fits your torso length but also carry the pack with some weight in it. I would suggest at least 30 pounds and that's going to give you a good idea of what the pack is capable of carrying.
Gear Capacity
The gear capacity will depend on what type of backpacking will you be doing. Are you going to be doing a thru-hike or you just doing the type of basecamp backpacking? Thru-hikers are going to use a lightweight frameless pack as opposed to a more robust type of pack because thru-hikers are trying to be more weight conscious and are trying to be more minimalist. A 60L Deuter pack is going to be way too excessive and bigger for an ultralight system like a 2 to 3 days hike. A lightweight frameless option is going to be a better choice for this application. With that said, you need to know what the gear you have is going to take up space-wise.
Framed Vs. Frameless Packs
There are two main categories of backpacking backpacks; i.e. framed and frameless. The framed category is further broken down into two sub-categories; i.e. internal and external frame backpacks. When we talk about framed packs for hiking, we usually mean internal framed packs because external frame backpacks are too heavy for backpacking purposes.
Osprey is super popular with this Exos series and a lot of thru-hikers are using this. This is just over a 2-pound pack at 38L and you can carry upwards of about 35-30 pounds without it starting to get uncomfortable. A frameless pack like a ULA or Gossamer Gear has a superior wilderness. These are trying to go as minimalist as possible and they're usually a custom-made pack.
Conclusion
When it comes down to choosing a pack and what pack makes the most sense for you when you go backpacking, it's not possible for me to go over every single factor in everything about how to choose the right backpack for you. Just make sure that the pack carries well under load, that it fits your torso, and that it fits you. For me, the Osprey Exos is the right backpack but it took a lot of backpacking experience to feel the comfort. This pack was kind of the introduction for me to going ultralight.