Best Budget Down Sleeping Bags of 2020
We all know that down feathers has the best warmth to weight ratio of any insulating material. Some of us also know that down loses its ability to insulate when it gets wet. Below we have reviewed some of the affordable down sleeping bags that can be used in mild temperatures. Most of these bag's feathers have been treated with a water repellent antimicrobial and antibacterial substance. There's a lot of fancy engineering involved but the bottom line is that water-resistant down will stay drier longer than untreated down it will still eventually get wet but it dries out faster than untreated down.
Below is the list of great value, warm, lofty, and budget down sleeping bags with simple features for your next adventure.
1. Kelty Cosmic
Temperature rating: 20°F
Weight: 2 lb. 8 oz.
Fill: 600-fill DriDown
Best use: 3-season camping
Kelty Cosmic 20°F is built with 3-season camping and backpacking in mind. This popular affordable bag features water-resistant down insulation, well-designed places for your head and feet, and an anti-snag zipper. The bag is insulated with 600 fill power dry down. We all know that downs compressibility and warmth are unrivaled in the outdoor gear world. Yet most of us also know that those fluffy insulating down feathers turn into a soggy clump of mush when exposed to water.
DriDown performs differently. The individual plumes of the down feathers have been coated with a polymer that helps them stay dry longer in the face of wet conditions. DriDown can wet out if conditions are bad enough but in that case, it recovers, which is to say dries faster than untreated down.
Outside, the bag has a 20 denier nylon taffeta shell to protect the insulation and you. Inside, the 50 denier polyester taffeta liner provides next to skin comfort. You can use the interior loops if you want to add a liner. On the outside, you'll find small loops to secure a sleeping pad to the bag. You'll also find the full-length draft tube behind the 2-way anti-snag zipper. The zipper has a little garage to keep it from snagging hair. The bag additionally offers a fully insulated and adjustable hood. A handy pocket is available for electronics or other small items.
Down at the other end, an ergonomic foot box allows your feet to rest in a natural position. Hang loops are available for drying or storing your bag. This bag is available in regular which fits up to six feet tall and long which fits up to 6'6''. There's a draft tube to keep the cold air at bay but you can also use the zipper to vent when the temperatures are mild. Warm hood, a comfortable foot box, and a convenient pocket that's what you get with the Kelty cosmic 20-degree sleeping bag.
Pros: Easy to adjust and comfortable when cinched fully.
Cons: Not as compressible or light as higher fill powers
2. Klymit KSB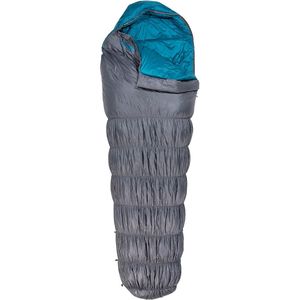 Temperature rating: 35°F
Weight: 2 lbs. 1.6 oz.
Fill: 650-fill duck down
Best use: Summer backpacking
This is a sleeping bag that's a little different than your standard bag but for good reason. It employs a construction that essentially eliminates the need to go back and forth between needing to choose a specific sleeping bag size. The KSB is full of a high quality 650 fill white duct down. This is lofty and warm insulation that has a good warmth to weight ratio.
The one weakness is that down loses its loft and insulation capability if it gets wet but Klymit builds the bag with a 20D ripstop nylon shell with a water repellent treatment and the liner is also a hydrophobic 20D material. Something that's pretty neat about this bag is the flexible baffle design. ¾ of the bag has this feature to maximize your comfort without interfering with the thermal efficiency. There is a ¾ length zipper with a draft guard and a fully insulated hood that can be cinched down if the temperature plummets.
The chest area not only has those flex baffles but it also is slightly expanded to give even more comfort and warmth. The foot-box is contoured nicely so you can move your toes around a bit. One of the cool features about the lower end of this bag is that it has this length block design. You can adjust the height of the bag depending on what you need. This is great for growing backpackers or folks who might share a bag with someone in their family who's shorter or taller than themselves. Overall, a great value with lots of comfortable design features the Klymit KSB is great for spring and summer backpacking.
Pros: Keeps you warm at 35 degrees, great quality for the price
Cons: Loose fit at shoulders, large pack size
3. NEMO Ramsey
Temperature rating: 30°F
Weight: 2 lbs. 1 oz.
Fill: Hydrophobic PFC-free down
Best use: Backpacking
It's a highly packable and cheap down sleeping bag that incorporates some of Nemo's innovative features. It uses Responsible Down Standard (RDS) Certified down insulation that's treated for water-resistance. It will pack down small enough for backpacking but it won't break the bank when compared to similar options. The bag weighs just over two pounds for the regular and slightly heavier for the long so it's worthy of warmer weather backpacking.
Nemo bags incorporate a lot of special design features. The first one you'll notice is the Thermo Gill design on the chest of the bag. These Gills allow you to essentially split the insulation on the top of the bag. It lets heat escape the bag more quickly. If you find the temperature to be warmer than anticipated but you still want to stay bundled up, you can just open these to reduce the temperature inside your bag. Another cool feature is in the foot box. The main body fabric is a 30D ripstop nylon with a water-repellent finish. The foot box is a more durable 40D fabric that's waterproof. It's using OSMO fabric that has a DWR finish as well. This is great for battling the inevitable condensation that you'll experience inside your tent.
The Ramsey also has a neat Blanket Fold at the top opening. This piece can be tucked in if the night is colder and it'll seal out those chilly drafts. If it's warmer and you want to dump heat, you can just push the Blanket Fold out and it will allow for much better airflow. The bag is full of 650 fill down insulation so you get a good balance of affordability and also compressible material. I find 650 fill down to be just right when it comes to price and performance.
The bag does include a compression stuff sack for your backpacking needs and also a big loose cotton storage bag for that long-term at-home storage. Down should never be stored for an extended duration in a compressed state. Overall, the Ramsay gives you a lot of innovative comfort features without overloading the bag with tech. It brings a balance of high performance and a reasonable price.
Pros: Comfortable, packable, great temperature adjustability
Cons: This venting strategy sufficed for a short time. When the temperature climbs, you may need to open the main zipper.
4. NEMO Women's Cleo
Temperature rating: 30°F
Weight: 2 lbs. 3 oz.
Fill: PFC-free down
Best use: Backpacking
It's a lightweight and affordable down sleeping bag for backpacking in mild temperatures and it's versatile. The traditional mummy shape provides thermal efficiency and low weight for backpacking. The Blanket Fold combined with the Thermo Gills lets you regulate your temperature in varying conditions. This bag is perfect for the backpacker who needs reliable performance and high quality without breaking the bank. The hood is the part of the bag that gets fiddled with the most. So Nemo gives you a lot of space at the shoulders and elbows to move around so you don't feel cramped.
You have a traditional hood that can be cinched down on chilly nights. The two-way zipper can be vented from the top or the bottom. There's a comfy Blanket Fold that can be tucked in around your neck or flopped open to vent the bag. This is a traditional mummy shape so it's meant to fit snug to keep in body heat. If you need to save weight and pack size, this is perfect because the bag weighs in right around two and a half pounds and packs down small enough for backpacking.
This is a warm bag but you might not always need it to be 30 degrees warm. I've had nights of backpacking even in summer where I just can't find the right balance. If I zip everything up I'm too warm but unzipping the side is way too drafty and I get chilly. Nemo took innovation from mountaineering bags to solve this problem. The Thermo Gills open up two of the baffles to let out core body heat without feeling drafty. It gives you that perfect temperature regulation.
You'll notice vertical baffles that run up and down the bag rather than side-to-side. This creates even heat distribution so your feet stay warm. Nemo also included waterproof material in the foot box to protect the insulation if you rub up against a wet tent wall. The rest of the material is soft and lightweight nylon ripstop with a water repellent coating to protect the insulation while still being breathable.
The 650 fill power down is high-quality but it keeps the overall cost down. The fill is treated with a Nikwax hydrophobic coating so if water does make its way to that insulation, it'll dry out faster and keep its loft longer than traditional down. While traveling, you can pack it down small in the given stuff sack but a larger storage sack is included to keep the fill lofty at home. Nemo thought of everything a backpacker needs to stay warm and comfy out there. So sleep cozy in the women's Cleo sleeping bag by Nemo.
Pros: Comfortable, packable, great temperature adjustability
Cons: This venting strategy sufficed for a short time. When the temperature climbs, you may need to open the main zipper.
5. Marmot Never Winter
Temperature rating: 30°F
Weight: 2 lbs. 3 oz.
Fill: PFC-free down
Best use: Backpacking
This is a nice, simple, and warm weather bag that is perfect for the backpacker on a slightly tighter budget. You'll get quality construction and solid materials. It has a lofty fill and it packs down nice and small, which makes it perfect for warm-weather backpacking. Marmot gives typical mummy shape but it doesn't feel nearly as tight on the inside like some other bag. It feels always almost relaxed mummy fit, which is comfortable. The bag is anatomically designed in all areas including the foot box where you'll get a wrap-around construction to maximize your warmth. The hood is big and beefy. It has multiple baffles to give you maximum warmth up top. You can cinch it down if you need to, which locks in that warm air. There's also a small stash pocket on the inside, which is perfect for ChapStick or something like that.
What's keeping you warm is a 650+ fill duck down with Down Defender. This is a lofty and compressible down that's treated with a polymer that makes that down water-resistant. Normally if down gets wet, it becomes essentially useless. With this treatment, it doesn't. The down is able to perform in any condition. If it's exposed to moisture longer, it stays dry, it maintains its loft and efficiency, and it also dries out faster than traditional down material. The 30D shell materials will help to protect that down from initial moisture exposure. But if you're in super humid condition or if your tent leaks, you'll still be able to stay warm.
There are a full-length locking YKK 2-way zippers with anti-snag slider. This is a simple piece that's layered on top of the zipper that helps prevent snagging. Behind that zipper, there's a draft tube to seal warm air. The bag is rated at 30 degrees but that's the lower limit. Keep in mind that you'll need a sleeping pad with an appropriate R-value in order to get the full thermal efficiency out of your sleep system. The bag does include a stuff sack for packing away and a storage sack for long term storage. Never store your sleeping bag for an extended period in its stuff sack as it could affect the insulation.
Pros: Comfortable and lightweight, packs up small
Cons: The fit is slightly tight in the shoulders.
6. Big Agnes Mirror Lake
Temperature rating: 20°F
Weight: 2 lbs. 6 oz.
Fill: 600-fill-power DownTek
Best use: 3-Season backpacking
The Big Agnes Mirror Lake is a women-specific traditional mummy-style sleeping bag. It gives you a lot of thermal value with mummy shape. It's got the qualities of down so it's filled with 600 fill down so you have the loft, packability, and warmth ratio of down. It is DownTek means it's treated down so you get all of the properties of a synthetic bag. DownTek is important because it's treated with a hydrophobic coating so it will dry out faster than regular down. If it becomes wet, it stays dry longer and ultimately keeps you warm in humid or wet environments.
At the 20 degrees rating, you can use this bag in many different seasons throughout the year. It's perfect to take into the backcountry and you can rely on this bag. In order to get that temperature rating of 20 degrees, you do need to pair it with a sleeping pad that has the same thermal value. There are loops on the inside of this bag. If you need to pair it with a sleeping bag liner, you can loop it so the liner isn't getting punchy.
At the top, you get a nicely baffled hood. You can cinch it down with the drawcord on the top and on the bottom. If you're getting close to that 20-degree temperature rating, you can baton it down and there's even a little collar on the inside. This will fit around your neck and around your face and hold in heat so you don't have heat escaping it through.
There's a full-length zipper that goes most of the way to the foot box. You can vent from the bottom, which is nice if it's a warmer night or you can unzip the bag completely. To retain thermal efficiency, the zipper doesn't go all the way down. It does have a nicely shaped toe box and get plenty of room for your feet to move around but it tapers down into the toe box just to keep in your heat. Behind that zipper, there's a draft tube that keeps cold air from coming through the zipper. It is a women-specific bag so look at the size before purchasing it. Overall, it's packable and you can pack it down into an included stuff sack.
Pros: Unzips at feet, warm, comfortable, packs small
Cons: Could be a bit wider in the hip area.
7. Big Agnes Boot Jack
Temperature rating: 25°F
Weight: 2 lbs. 6 oz.
Fill: DownTek
Best use: Backpacking
The Big Agnes Boot Jack is a warm and lightweight mummy bag that's built for backpacking. The stripped-down features make it simple and affordable but Big Agnes did not skimp on the quality. The 600 fill power down is treated with DownTek. A water-resistant treatment that makes the plumes performs more like synthetic fill and wet weather. So it stays drier longer than traditional down. It dries out faster and keeps you warm when wet.
The shell fabric has a water repellent finish to keep that insulation drier. The lining material is soft against your skin. There's a nice big draft tube behind the zipper and around the collar to keep in body heat. The mummy cut means it fits close to the body for optimal warmth. The more space there is in a sleeping bag, the harder it is for your body to heat the inside of the bag and keep you warm. This mummy design minimizes the area your body must heat, which helps you achieve the greatest thermal value. In more mild temperatures, it can be opened wide with the two-way zipper to vent. The hood and the foot box are anatomically cut for comfort.
The Boot Jack comes in two sizes, regular and long. They're different in height and in width so check the specs to see what size is best for you. If you're getting close to that 25-degree rating, I'd suggest using a liner for more warmth. Those are sold separately but there are loops inside this bag to attach a liner. If you're camping with your significant other, you can zip together left and right side zippered bags. On longer trips, there are loops on the outside so you can hang it to dry. It comes with a stuff sack for when you're on the go and a larger storage sack for at home.
Pros: Provides the perfect temperature rating, great quality
Cons: Not ideal for taller folks over 5'9''.
8. Big Agnes Thunderhead SL
Temperature rating: 30°F
Weight: 1 lb. 15 oz.
Fill: 650-fill DownTek down
Best use: Backpacking
This is not your average sleeping bag. It utilizes water-resistant down insulation and its overall construction focuses on saving weight and maximizing compressibility. It even employs an innovative zipperless design that shades ounces and makes a bag quiet when in use. The bag utilizes 650 fill power DownTek insulation. It's a treated down that gives you loft and compressibility of down with a more weather worthy performance that you'd expect from synthetic insulation. Even if it should become wet it still retains its insulating properties and it also dries significantly faster than untreated traditional down.
The nylon ripstop shell fabric has a water repellent finish, which further protects the insulation from the elements. Diagonal baffles keep the down insulation evenly distributed so you can enjoy consistent warmth throughout the bag. It does have a close-fitting and thermally efficient mummy cut but structured side walls and a contoured foot box do add comfort that makes the bag feel less restrictive than traditional mummy bags. Entry to the bag is limited to the top access. Again, you have a zipperless design so you don't have a length of the zipper that extends down the body of the bag. It helps to reduce weight, makes the bag more thermally efficient, and makes it quieter than zippered bags.
There's a clip and loop system that enables you to cinch down the top of the bag in colder conditions. Keep in mind that the bottom of this bag in the torso area is not insulated by design. There's an integrated pad sleeve that expects that you'll use the bag with a sleeping pad and that sleeping pad will be able to provide you with the warmth for the absence of that insulation.
You can use any 20-inch wide pad with the Thunderhead. Make certain that you're utilizing the pad with an adequate R-value to match the Thunderheads 30-degree temperature rating or it will not "sleep" as warmly as it should. There are internal loops on the bag if you do choose to utilize a bag liner of some sort. There are also external loops that allow you to hang the bag for drying it or for storing it. Big Agnes also includes a nylon stuff sack and a mesh storage sack. It's important to remember you always want to store your sleeping bag in an uncompressed state to extend the longevity of the bag. It also helps to maintain the loft of the insulation.
Pros: A 3-season option at a great price.
Cons: Slides a little on your sleeping pad but not enough to be a deal-breaker.
See the Big Agnes Thunderhead SL
Best Budget Down Sleeping Bags: Comparison Table
Conclusion
The above sleeping bags are all filled with down insulation. I don't have anything synthetic in my sleep system. That's a personal choice for me. I don't live in a wet environment and I don't get too concerned about issues you might have with down insulation getting wet. Keep in mind that most of the above sleeping bags are treated with some kind of hydrophobic coating. They have the ability to repel water and if they become wet, they will dry out faster than a traditional sleeping bag.