Best Budget Trekking Poles of 2021
Trekking poles are a helpful piece of gear. They take a little bit of load off your legs when you're carrying all that weight and doing all those miles in the backcountry. You can use them to help you climb uphill and to brace yourself going downhill. They can give you a little bit of extra balance if you're going across like a single boardwalk type thing, which happens frequently. Also, they can be used as a tool. You can use them to sort of pitch a tarp on a hammock out. There are even now some backpacking tents out there, for example, like the ZPacks Duplex that relies on trekking poles.
Below is the list the list of top budget-friendly poles that are durable and will last a long time.
1. Montem Ultra Strong

Weight (pair): 1 lb. 3.2 oz.
Shaft material: Aluminum
Grip: Foam
Locking mechanism: Flick-lock
Montem Ultra Strong poles are well worth it for a budget buy. They are strong, compact, easy to use, and much more affordable than some of the options on my list. They are equipped with a FlickLock lever system and you can collapse them down to 2 feet, which makes them pretty compact. This is great for carrying attached to your backpack or in the back of your car on your hiking trips.
The grip is soft and comfortable to touch making them comfortable for long hikes. On the flip side, they are a little bit heavy but would be perfect for a beginner who is looking to get a quality set of poles for a cheaper price. If you're someone who is new to hiking and backpacking and just wants some comfortable trekking poles with some premium materials and lightweight design then you would be happy with the Montem Ultra Strong poles.
The shaft material is 7075 aluminum. This is the same material use to build airplanes. The pole is adjustable to a length from 24 to 53 inches so you get a perfect length for your hiking needs. As I mentioned earlier, these poles are a little heavier than some other options in this category. So it weighs around 9.6 ounces per pole.
What I like: The design is compact and folding, the grip is soft and comfortable
What I don't like: Cheaper materials, a little heavier
2. Cascade Mountain Tech Carbon Fiber

Weight (pair): 1 lb.
Shaft material: Carbon fiber
Grip: Foam or cork
Locking mechanism: QuickLock
Cascade Mountain Tech is a small and independent owned outdoors company located just outside Seattle, Washington. They're focused on good gear and they rigorously test them. These poles are the first product they created and as far as I could tell you, these poles are affordable for people and this is a great company for you to buy from. These poles are 100% carbon fiber and weigh around 8 ounces per pole. They come with a QuickLock mechanism that is easy to adjust and supports you well during your hikes. As far as grip goes, you have the option of cork and EVA. I personally like a cork handle because it is comfortable for me but you can opt for EVA if you like.
The locking mechanism is QuickLock that has two parts; first, it has a thumbscrew which you tighten down, and then it has a little lever that you snap into place to lock the locking mechanism. If it ever comes loose on the trail, you simply tighten that thumbscrew back down, snap the lever into place, and you are good to go. Cascade Mountain Tech poles extend from 26 inches up to 53 inches. They come in a nice bag along with four removable rubber tips. Those tips are snow baskets, mud baskets, rubber boots, and also rubber feet that go the built-in tungsten-carbide tip.
What I like: Affordable carbon fiber poles, fairly lightweight, available in both cork and EVA grip
What I don't like: The locking mechanism has bulky levers.
See the Cascade Mountain Tech Carbon Fiber
3. LEKI Legacy Lite COR-TEC

Weight (pair): 1 lb. 1.2 oz.
Shaft material: Aluminum
Grip: Cork or rubber
Locking mechanism: Lever lock
This is a great set of poles for the hiker or backpacker who wants a simple and economical pole with some added comfort benefits. These trekking poles strike a great balance between price and performance. The form-fitting grip and intuitive features make this a great value. It's got a telescoping design so you get quite a large range of adjustments. At the top of the pole, you get a truly economic handle with a comfortable adjustable strap. LEKI's COR-TEC grip is a mix of cork and latex. The cork wicks moisture better than a traditional plastic grip and gives a great feel on the trail.
The aluminum shaft sections are strong, durable, and provide great stability. The shaft sections are held securely in place by LEKI's SpeedLock mechanism. To use it, simply open the lever, adjust the pole to your height, close the lever and you're good to go. The SpeedLock is also field-maintainable. If you ever find that the sections are slipping, your poles aren't broken you just need to tighten the locking mechanism. Open the lever, turn the dial clockwise, close and back up, give them a quick test and you can head off on the trail.
At the bottom of the poles, you'll find the carbide Flex Tips, which bite down into trail surfaces nicely. You'll also find the trekking baskets included with these poles. Those can be swapped out with snow baskets and those snow baskets would be sold separately.
What I like: A good balance between price and performance, great stability in snow, lightweight and comfortable
What I don't like: Sometimes when you put pressure on them, the lowest hinge starts to collapse and needs adjustments.
See the LEKI Legacy Lite COR-TEC
4. Black Diamond Distance Z

Weight (pair): 12 oz. (110 cm)
Shaft material: Aluminum
Grip: Foam
Locking mechanism: Push-button lock
Black Diamond Distance Z poles have been a favorite among trail runners and lightweight enthusiasts for years. They travel easily with you because of the foldable design. They're aluminum so they last a long time and the rapid deployment system means that setup is fast and folding them down is a breeze. These poles fold down into a Z pattern hence "Z" in the name.
The poles feature a slide lock and they snap into place easily. You'll see a locked icon on the pole and an unlocked icon on the slide lock. To fold them back down, just pull up on the slide lock with one hand and then push the section back up towards the grip. This action loosens the central cord and then you can fold them back down. They're really fast to set up on the run because of the Speed Cone design. It guides each section into place at the joints.
The poles come in a fixed length and there's no adjustment whatsoever. But they do come in different lengths so make sure you get the one that suits your needs. If you're a runner and are in between sizes I would recommend sizing down for better uphill propulsion. On the flip side, if you're a hiker or a backpacker size up for more stability and support. I'm about 5'6" and I trail run and hike with Distance Poles and the 110cm are perfect for me.
There's a little notch above the existing basket where you can attach Z Pole snow baskets for use in winter. Those are sold separately. Overall, they're versatile for trail running, traveling, and hiking at an affordable price.
What I like: Packs down to a small size, durable aluminum construction
What I don't like: Fixed length, average grip comfort
See the Black Diamond Distance Z
5. Black Diamond Trail Back

Weight (pair): 1 lb. 4 oz.
Shaft material: Aluminum
Grip: Rubber
Locking mechanism: Lever lock
The Black Diamond Trail Back trekking poles are an excellent budget-friendly option when you're looking for a sturdy reliable pair of trekking poles but you don't want to break the bank. They're made by Black Diamond so you can expect durability and they've got features that I haven't seen on other poles in this price range.
Trail Back poles feature a comfortable grip with an extended foam grip down. The quality is much better than what I would expect on such a cheap pair of trekking poles. Towards the bottom, the poles offer baskets with an extra pair of snow baskets so these can be used in any season. The tip towards the bottom is incredibly durable it's going to last a long time. It is even replaceable if you need to replace it.
At the top, the grip is the part that comes into contact with your hands. This is very important because the grip comfort can change your whole experience with the poles. Also with the grip, you've got a really comfortable adjustable strap and this strap is a lot higher quality than some similar options in this price range.
One of the things I like about these poles is the EVA grip foam extension below. If you're hiking uphill and you just need to grab on to a different part of the pole, it makes it really easy to do that. You don't have to adjust the pole to be shorter.
Moving down the pole, there are three sections. It's a telescoping pole so it packs down to be nice and small when you're traveling with it if you need to just lash it onto your backpack for a short period.
What I like: EVA foam grip extension, tough and durable aluminum construction
What I don't like: A little heavier than competition, the telescoping style is not very packable
See the Black Diamond Trail Back
6. Foxelli Carbon Fiber

Weight (pair): 14 oz.
Shaft material: Carbon fiber
Grip: Cork
Locking mechanism: QuickLock
Foxelli Carbon Fiber poles are made from shock absorbent ultralight 100% carbon fiber material. These poles are great for absorbing all kinds of terrain so it keeps your joints feeling great while you're hiking. Also, they come in weighing only 7.6 ounces per pole. You can expect to go longer and harder on the trail without experiencing arm fatigue. They also have QuickLock technology that really helps you out on uneven terrain. They also retract from 24 inches all the way up to 55 inches to fit all kinds of different heights, which is great for short folks.
Just like the Black Diamond poles, Foxelli also has the anti-slip natural cork grips, which help you when your hands are sweating and they keep you from getting blisters. Overall, these poles are lightweight and fairly inexpensive. They come in different fits for different heights of people and the super comfortable cork grips. However, the QuickLock mechanism that comes with Foxelli poles can fail sometimes or it can be difficult to use. Nevertheless, if you're someone who is looking for some super lightweight cork poles for a decent price, go for it and these will be your go-to trekking poles.
What I like: Comes with a nice carry bag, extremely value to money, comfortable handles, and straps
What I don't like: The locking mechanism is not reliable, I would not recommend them for a serious multi-day hike.
7. Mountainsmith Dolomite OLS

Weight (single): 10 oz.
Shaft material: Aluminum
Grip: Cork and foam
Locking mechanism: Lever lock
If you prefer to hit the trail with a single-pole, the Dolomite OLS can be a great option for you. It's a budget-friendly that's got many features. You have a traditional 3-sectioned telescoping design it uses two external lockings called OLS. All you have to do is flick it open with your thumb, adjust it to your preferred height and they're going to adjust from 44 inches down at the low end all the way up to 54 inches at the high end before you see that little stop sign. When you're ready to collapse them down, they couldn't be any easier to collapse.
At the top, you do have a nice cork grip and it does have a lot of shaping to it. Below that cork, you have EVA film, which is comfortable. You also have some traction so if you're wearing gloves or if you're hiking uphill and you don't want to adjust the trekking pole, all you have to do is grab it at a lower height. As you move down the pole, they're using 7075 series aluminum so that's where it gets its name 7075 in the naming.
If you go down to the bottom, you have a couple of things going on towards the tip. It comes with one basket but you can buy snow baskets that are the wider diameter and put them on if you're snowshoeing or if you're using these in the winter. It does come with a rubber boot tip on the bottom. You can take that rubber tip-off and there you have a carbide tip on the bottom. If you're on regular trails, I would use that carbide tip to get the best traction possible.
What I like: Great for those looking for a single pole.
What I don't like: Average built quality and pretty heavy at 10 ounces for a single pole.
See the Mountainsmith Dolomite OLS
8. Kelty Upslope 2.0

Weight (pair): 1 lb. 4 oz.
Shaft material: Aluminum
Grip: Foam
Locking mechanism: Twist lock
Kelty upslope 2.0 is made of aluminum so they're durable. They're fully adjustable for the perfect fit and budget-friendly so they won't break the bank. These are perfect for the weekend hiker or occasional backpacker who's looking for poles to use a few times a year and wants reliable construction. These are 3-sectioned poles so they pack down and are fully adjustable with the internal twist locks. You adjust them by twisting them to unlock, adjust them to the right height and then twist closed. It's common for one to over twist to get a tight fit but be careful to not tighten them too much. Once you feel them start to catch, give it another full turn and leave it at that.
The molded EVA foam grip is comfortable in all seasons. It's soft on your hands, wicks well in the summer, and the extended grip means that you can grab the poles at a lower spot when walking uphill. That saves time so you don't have to adjust the poles and you can keep on trekking.
With the adjustable strap, you'll be ready to hit the trail any time. They come standard with trekking baskets but you can remove those for snow baskets to complete your 4-season kit. The snow baskets are sold separately. They do, however, come with a rubber tip protector for when you're traveling in towns or on pavements. The carbide tip underneath will be the one you use most of the time on trails. This is a durable material that gives traction on any surface.
What I like: A good entry-level option for beginners, easy to use, good color options
What I don't like: The pole can get too warm in summer or cold in winter but this is something manageable.
Best Budget Trekking Poles: Comparison Table
What to look for when choosing Trekking Poles?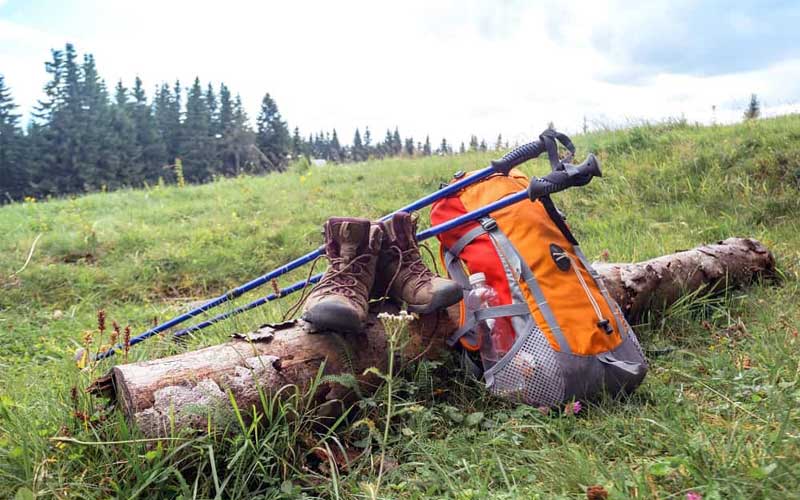 Trekking poles help support and stabilize you when carrying heavy loads, decrease the impact on knees and significantly reduce strain on leg muscles. Most poles can be used for any hiking activity but backpackers and anyone concerned about weight consider lighter options. Trekking poles are designed to compress for easy transport and extend for use.
Locking Mechanism
Poles use different locking mechanisms to stay extended. Some pole sections twist into each other but most use a clamp-like lock. Clip style locks flick open and closed quickly and easily for fast length adjustment and are very secure.
Personally, I am not a big fan of twist-lock because it's easy for one to over-tight it or twisting too loose. This results in perpetual issues with collapsing. Still, there are some models out there that do a good job with even twist locks but they come at a cost such as the one you get on Gossamer Gear's LT5. If you're on a tight budget, I would recommend avoid twist locks.
Shaft Materials
The shaft of a trekking pole can be made of either aluminum or carbon fiber. Aluminum poles are durable and strong in every direction. It may bend under severe loads but are unlikely to break completely. Poles made from carbon-fiber are also strong, absorb vibration, and are the most sturdy under downward force but more vulnerable than aluminum to damage when flexed. They are the lightest option making them not only easy to pack but also lighter in the hand and easier to swing.
Carbon poles are generally more expensive, lightweight but brittle. If you break the carbon pole, you don't get a second chance with it unlike aluminum, which bends and you can re-straighten them for a second use. If you are looking for a low-end model, I would suggest going for aluminum as they are reliable even at a low price.
Grip Materials
Pole grips can be made from foam or cork. Foam grips are soft and durable and can absorb sweat on hot days. Natural cork grips conform to the shape of your hand over time. They evaporate sweat quickly and are lightweight. Ski and snowshoe specific poles use rubber grips, which are good when wearing gloves but should be avoided for summer use as they can cause blisters on your bare hands. Some grips also extend down the shaft, which can be useful if you want to hold the pole lower for brief steep sections of your hike.
You may have heard of the rubber grip material. It usually comes in cheap trekking poles to make them more economical. The rubber is known for its great performance in winter. They shed rain and snow well but they may not perform well when it comes to sweat absorption. Also, they don't give you that premium feel of cork and EVA.
Tips
Trekking pole tips are usually carbide, which gives them great grip in dirt, rock, and even on ice. If you use your poles on concrete or asphalt consider buying rubber tips to protect the carbide and the ground. Most models come with a rubber cap to protect the tip. Unless you're hiking on flat pavement or roads, it's best to take that off because these carbide tips that are on the bottom are good enough for mud, grass, dirt, snow, and ice.
Shock Absorbing
To reduce the impact on your wrists and arms some poles are available with shock-absorbers. Poles come with a small basket near the tip to keep from snagging between rocks or sinking into the mud. Most are also compatible with larger baskets for use in snow.
Keep in mind that added shock absorption feature makes your pole heavier and for longer hikes, every additional ounce counts. For example, if we talk about LEKI, you get 1 extra ounce per pole for shock absorption. However, in my opinion, I would keep things simple because I would have one less part to break in the backcountry.
How to use them?
I only like using trekking poles if the terrain gets sketchy enough and I think I need one. But since learning how to use trekking poles properly and efficiently, I can't be without them on a long-distance trek. They help me to crush bigger miles, hike for way longer for an entire day, and they put less strain on my body.
Most people end up buying their first set of poles not knowing how to use them properly and they end up ditching them on the first hike because they're not getting any benefits out of them. If they knew how to use them properly and efficiently, it would be a completely different story.
Benefits
Trekking poles allow you to distribute the weight of the pack and your body directionally. They give you more stability under heavy loads and put less strain on your body so you can push off and propel yourself forward, which helps you to hike further. Over the long term, your joint health is going to benefit. If you want to keep hiking well into your 70s and your 80s and beyond, using trekking poles will keep the health of your joints way more than if you didn't use them.
Another benefit is that they can be used in multiple situations. You can use them to put brackets on to stick your camera or you can use them to set up a tent. A telescopic is perfect for setting up those tents and getting just the right tension.