Best Budget Rooftop Tents of 2020
When it comes to choosing a tent for your camping trip, you want to make sure you have something that fits your budget. You also want something that fits your camping style. That's why you may be looking for a budget rooftop tent. These give you a unique experience when you're camping, and make sure that you and your family are comfortable. Not to mention they help you camp anywhere you want to go because you only need space to park rather than a large campsite. Even better, any of these products will help you make the most of your experience.
1. Smittybilt Overlander
Waterproof top and rainfly
Side windows with mosquito netting
Sunroof
Telescopic ladder
Interior LED strips
The Smittybilt Overland Tent is an excellent pick for your rooftop tent. This tent is waterproof and contains a full-size foam mattress included. It can sleep two or three people and uses aluminum tent poles. It also has a telescopic ladder for easy access. The Smittybilt tent is specially built for JK generation, 2007 through 2014, Jeep Wranglers. It is meant to be attached to the Smittybilt SRC Overhead Rack, sold separately, for the best attachment to your vehicle.
The tent also has a waterproof rainfly to deal with poor weather while you stay inside. It doesn't take long to set up this tent, and its zippers are rugged enough that you won't have to deal with tears or broken seals when in use. The Smittybilt Overlander is covered by a PVC cover to protect it while not in use, meaning you can keep it covered while destroying the trails. It also has a 12-volt power adapter inside for easy use for power conversion and keeping your electronics ready.
Pros:
Comes with two-inch foam mattress
Ripstop polyester coating
Included cover for when not in use
Cons:
Designed only to fit JK generation Jeep Wranglers
Rack sold separately
Ladder extension necessary for lifted vehicles
2. Front Runner Roof Top Tent
Mattress included
Lightweight at 88.18 lbs.
Sleeps 2 people comfortably
Zippered privacy panels on all windows and doors
Retractable aluminum ladder
The Front Runner Roof Top Tent is a low profile rooftop tent to help keep your center of gravity and wind resistance low. It can fit two people comfortably with it's over seven and a half foot length it gives you and your things room to move. The Front Runner tent can fit on the Front Runner Tent mount kit, which can fit on many different vehicles making it very easy to fit your favorite car.
The Front Runner also comes with an insulated aluminum base and mattress to get you through chilly nights. This tent is constructed by a waterproof polyester cotton blend with a rainfly of pure polyester to keep water out. It opens in a single motion for smooth set up and quick transition from roaming to sleeping. The Front Runner tent also allows you to mount it so you can put the opening on either side of your vehicle for your personal preference. It also is flexible enough to fit on most roof racks and load bars.
Pros:
Fits on most vehicles with flexible mounts
Sits only 7.8 inches high when folded
Insulated base included
Cons:
Polyester-Cotton base not fully waterproof
Zippers and pockets not hardened for rugged use
An extra mounting kit may be needed
See the Front Runner Roof Top Tent
3. Raptor Series OFFGRID Voyager
Telescoping 8 foot aluminum ladder
Sets up and closes in seconds
The maximum load capacity is 750 lbs.
Aerodynamically designed to withstand heavy winds and shed rainwater
The Raptor Series OFFGRID Voyager Rooftop Tent is an excellent pick up for off-road travelers. With the rapid deployment, thanks to the flip-up shell top design, it allows you to both setups and tears down your tent in a matter of seconds that will make it easy for you and a passenger to start and end your day. Its eight-foot aluminum ladder allows easy ingress and egress, so you do not have to get high up on your first step.
The Raptor OFFGRID Voyager inside contains a full-size foam mattress and contains hanging pockets that store with very little effort. It is designed to set up on most stock or aftermarket rack and crossbar systems. This tent also comes with an awning over the door side with a netted window for unmatched views of your surroundings. The Raptor OFFGRID Voyager tent is an excellent choice for the adventurous travelers and allows the others in your travel groups to stare in wonder with your unique styled pop-up tent.
Pros:
Easy up and down for quick transition from camping to roaming
Fits most vehicles with stock and aftermarket roof racks and crossbars
Unique design and great viewpoints on the opening side
Cons:
Extra hardware and mounting brackets likely required
Weight is higher than other rooftop tents
The awning may make the approach angle difficult
See the Raptor Series OFFGRID Voyager
4. Thule Tepui Explorer Ayer 2
Perfect for smaller SUVs and vehicles
Four large internal pockets
Mesh panels
Easily swap out the canopy
Includes high density 2-1/2 inch foam mattress
If you've been looking for a more traditional tent style for your rooftop ten and also have a design that can distribute the weight evenly, the Tepui Explorer Ayer 2 tent may be one to look at. This tent is made with coated 600D and a 260g poly-cotton blend to help protect from rain and winds and has a variety of canopy covers available to best fit your style, climate, and the season you will be using your tent in.
The Tepui Explorer Ayer 2 has four interior pockets and pops out awnings on both sides of the tent and on the windows on the side. Also included is a two and a half-inch foam mattress for a comfortable and warm sleep. The tent is wrapped in a bag made of the same ripstop fabric to reduce weight. The A-frame design also allows ample height for changing and moving about inside the tent. It is recommended that you purchase the Thule brand roof racks designed for this model as most stock and basic aftermarket roof racks and crossbars are not able to equip the tent.
Pros:
Ease to move about inside
Low weight decreases top-heaviness
Multiple canopies for different environments
Cons:
Specialized mounting equipment is recommended
Issues have been noted with zipper quality
The mattress can be overly stiff
5. Tuff Stuff Ranger Overland
Included 2.75 inches high-density foam mattress
Oxford material with waterproof Polyurethane coating
Sheds water instantly
Weight capacity is 650 lbs.
Install time is 1-2 hours with 2 people
The Tuff Stuff Ranger Overland Rooftop Tent comes with an Annex Room for simple changing areas and a small area on the ground that can protect you from the elements quicker than other rooftop tents. The Tuff Stuff Ranger Overland is made with a cotton-polyester blend material with a pure polyester rainfly to handle the elements you encounter. The Annex Room is large enough to put a queen size mattress out for more guests making this a choice for family road camping.
The tent stays protected with a PVC driving cover to reduce resistance while driving and protect the tent while you are driving about. The Tuff Stuff Ranger Overland tent comes with a 2.75-inch foam mattress for the upper level and a ladder that is best be 76 to 78 inches off of the ground. The mounting brackets given with this option are universal, which allows for mounting on most stock and aftermarket roof rails and crossbars for easy mounting. The ladder provided can be easily removed for more annex room space.
Pros:
Huge annex room for more accessible use
Universal mounting for less specialized parts required
Thick mattress for added comfort of the upper level
Cons:
Setup takes longer than most other tents on this list
Annex room must be attached separately from tent setup
A stability support pole kit is sold separately but is often necessary
See the Tuff Stuff Ranger Overland
6. Thule Tepui Explorer Autana
Can accommodate up to 3 people
Mesh panels
Four, large internal pockets
Includes a high-density foam mattress
Easily swap out the canopy
An interesting choice for a rooftop tent is the Tepui Explorer Autana with its included privacy entrance and annex for a better quality of life for roadway trails camping in your truck or SUV. With the ability to be used in all four seasons and with sleeping for up to three, this tent is a versatile way to keep yourself comfortable while tackling the trail. The Tepui Explorer Autana is built with ripstop polyester cotton blend fabric to endure moisture and withstanding wind for all conditions you may encounter.
Inside there are four large pockets for storing your belongings close by. The windows in the upper section have awning openings to act as a sunshade or a water shield if that's your situation, which allows for an easy lookout and protected by netting from insects and other pests. This tent is protected while stored by a fabric bag with straps, helping reduce weight and height. It also comes with universal mounting brackets that allow it to mount on a majority of stock and aftermarket roof racks and crossbars.
Pros:
Annex room included
Heavy-duty material protect occupants from elements
Fits three in the overhead area
Cons:
Storage bag not as durable
Zippers and seals not overly hardened
Must be shipped via LTL, meaning you must have assistance to unload
7. Yakima Skyrise
Lightweight and sturdy
Technically advanced
210D nylon material
Breathable
Mesh panels
The Yakima Skyrise Rooftop Tent is a sturdy three-person tent meant to go on top of a variety of vehicles. It is made of a lightweight nylon material that allows for water resistance and reduces your center of gravity and tip risk compared to other, more substantial units. The Yakima Skyrise has mesh panels for ventilation and to keep pests out. It also includes a rainfly coated in a waterproof polyurethane sheet to protect the mesh canopy from moisture.
This tent, however, is not meant for winter camping as the nylon will be unable to handle colder outdoor temperatures and is marked as such. On the flip side, that contributes to the lower overall weight and will also help with set up as there will be less bulk to deal with when propping it up. The tent comes with a vinyl wrap bag and clip system to help it stay in place and protect it when you are not using it.
Pros:
Lightweight construction aids in setup and total load accommodation
Waterproof nylon is easy to handle
Small profile for reduced tipping hazard
Cons:
Only suitable for three-season camping
Storage bag not as suitable for elements
Lots of mesh means lots of opportunities for excess moisture drip
8. Tepui Explorer Kukenam
Can accommodate up to 3 people
UV and mold resistant fabric
Mesh panels
600D ripstop and a 260 g poly-cotton blend fabric
Perfect for rains and winds
This tent is a good option for exploring camper like yourself and is able to meet a good chunk of your needs as you traverse the roads and trails. The Tepui Explorer Kukenam is meant to hold three people and is made with a polyester-cotton blend to protect you from the elements, including rain and wind, while also being UV and mold resistant. It includes a foam mattress to give you a leg up on comfort and has a telescoping ladder attached for the various heights you may encounter.
The Tepui also has a variety of canopies available that are sold separately and an annex to expand your footprint if necessary, which will all help improve the usability of your rooftop tent during different weather conditions. Inside are four pockets to hold supplies you may need overnight, and side mesh panels allow for ventilation when it is required. It comes with a PVC case to secure your tent in so you do not have to worry about it being damaged while driving. It comes already assembled and is able to be supported on most truck and SUV roof racks and crossbars, whether they're from the manufacturer or are aftermarket parts.
Pros:
Multiple canopies available
Weather-resistant
Mattress included
Cons:
Issues with hinge action
Problems with floor construction
Access style can be cumbersome
See the Tepui Explorer Kukenam
9. ARB Series III Simpson
Features a 2.5-inch foam mattress
Insect screens
Retractable aluminum ladder
All-weather entry door
Waterproof, poly/cotton ripstop canvas
ARB Simpson is a top of the line, classy and cheap rooftop tent. It has a quality and well-thought design, which makes this tent truly special. The material of the tent is quite heavy. It's probably one of the heavier materials on rooftop tents of most of the brands. That's what makes the weight of the tent so heavy. But the fly is very light and it doesn't cover much of the tent just along the roof. When you take the fly off it does make a substantial difference and it can handle pretty good winds without being too cumbersome. The fly itself rolls up nicely when you take it off. Just slide it in flat in the back of the Jeep.
This tent comes with a 2-inch thick foam pad and it has a nylon cover. The mat is not very comfortable but manageable. The amount of stuff you can store in the tent is surprising. One of the good things about ARB is that the parts of the tent are very affordable. You can get parts even in North America.
Pros:
Easy to set up
Well ventilated
Very tough and durable
Cons:
Heavy
The mat is not very comfortable
Requires some skills to install
See the ARB Series III Simpson
10. Tuff Stuff Delta Overland
Uses a sliding ladder
Rainfly extends over the entry door and rear window
Includes 4 storage pockets
Optional annex room
Includes a 2.75″ thick memory foam mattress
The Tuff Stuff Delta Overland tent is a smaller tent meant for vehicles that may have smaller overhead footprints as it only is intended for two persons. This model is able to be mounted to most vehicles with stock or aftermarket roof racks and crossbars because of universal brackets included. The ladder is adjustable to allow you to set it to whatever height you need. Also included is a 2.75-inch memory foam mattress with a washable cover.
The rainfly stretch out far enough to help with shelter during ingress and egress while also stretching over the width of the unit to provide adequate protection. The tent is made with a polyester and cotton ripstop material that is waterproofed to keep you dry and warm inside. The Tuff Stuff Overland tent is shipped via LTL service, meaning you will need assistance to get it off the truck. It comes in a PVC case to keep your tent safe while being transported.
Pros:
Heavy-duty material to stay dry and warm
Adjustable ladder for easy access
Universal attachments so almost any vehicle can use this
Cons:
LTL shipping only means you will need assistance to complete delivery
Smaller than most rooftop tents
Setup can take some time to get correct for a comfortable sleep
See the Tuff Stuff Delta Overland
How to Choose the Right Budget Rooftop Tent?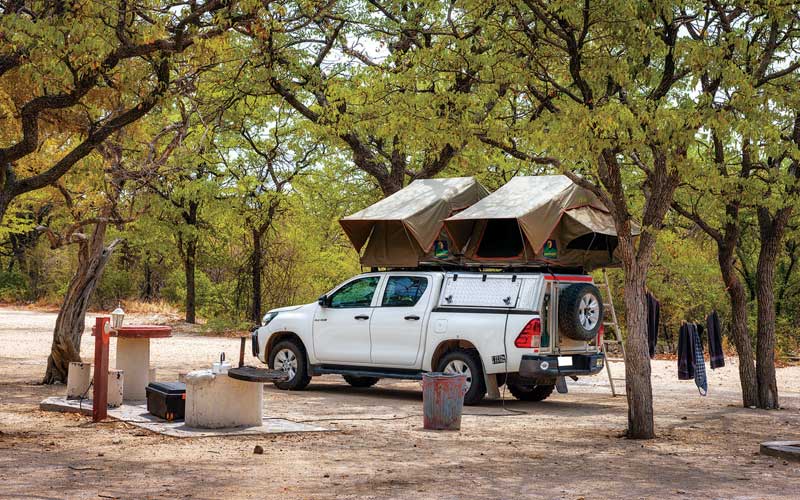 When it comes to choosing the rooftop tents, you may decide that none of these are quite your style. In that case, you need to know what to look at to choose your own. So, let's take a look at some critical aspects of choosing a tent for your family.
What Can Your Vehicle Hold?
The first thing you need to know is what your vehicle can actually hold. You don't want to overwhelm the size constraints of your car or the weight constraints. Remember, rooftop tents can come in all different sizes, and some are made with different materials that make them more substantial. Every vehicle is different, which means it will have a slightly different weight limit. You need to pay attention to those limits, so you don't end up damaging your vehicle. Choosing a rooftop tent that's lower than the max your vehicle can hold (accounting for gear and your own weight) is crucial.
What Comes With It?
Different rooftop tents are going to come with different gear as well. Some will have annexes or awnings. Some might have multiple doors, different types of ladders, floors, pockets, windows, and more. It's going to be up to you to evaluate each of these different aspects to determine what you want. Budget tents may not come with quite as many features as if you were willing to spend more, but you can still get some great features and something you're going to be comfortable with.
Should You Get a Hardtop or a Fabric Tent?
When you're traveling, your tent is going to be already installed on the top of your vehicle. That means while you're driving, it's going to be exposed to the elements, which can be a problem if you're driving in rougher terrain or through rain, wind, and snow. A hardtop means that your tent is better protected from these elements and terrain. It has a hard shell over the top to keep the fabric dry and safe from abrasion. However, these tents are also going to be more expensive. If you want to keep the budget down, you may want to go with a fabric tent and do what you can to protect it.
How Many People Are Going?
If you have a small vehicle, you won't have a lot of control over the size, but there are still some things you can look at. For example, a tent with an annex might offer space for an extra camper. Larger vehicles may also be able to accommodate different size tents as well. Choosing a tent that will work for the number of people that will be going with you is vital for your overall comfort. But this is another factor that could be affected by the budget. You may want to get a little cozier to keep everybody going on a budget.
When Are You Going to Camp?
There are different levels and ratings based on the time that you're going camping and what your tent is meant for. All-season tents are intended to keep you comfortable even when the weather turns cold, or there's a lot of rain. They should keep out the elements. Most tents are designed to work during three seasons and are best avoided when the temperatures get too extreme. Others may be built to withstand even the harshest of winter weather. It's up to you to decide whether a more comfortable and weather-resistant tent is something to spend a little more on. Some may find that it's easier to bundle up or to only plan trips during warmer periods of the year in order to cut down on potential problems.
Conclusion
When it comes down to it, there are a number of different reasons that you should take a closer look at rooftop tents. But you don't have to break the budget in order to enjoy this type of camping. The best cheap rooftop tents are going to be something that fits your needs and works for your entire family. Whether that means you want one of the options we've discussed above or not, you'll find camping this way is a great experience and a lot of fun.