Best Walking Shoes for Rainy Weather 2020
We all want to explore the nature and walk in the rain but the minute you put your first step out in the rain, you'll realize how important it is to have the right shoes, if you have waterproof shoes, you can do everything on your list without even thinking about your feet, but if not then you'll be too busy dragging those water-drenched shoes around to actually enjoy your walk, which will ruin the whole experience. Now we know you would be worried about how do you select walking shoes so you can enjoy in the rain? Don't worry we did all the research so you don't have to, we've made a list of all the practical and comfortable waterproof shoes.
So here is the list of the top walking shoes that can be used in rainy weather.
1. Salomon X Ultra 3 GTX
Waterproofing: Gore-Tex
Weight: 1 lb. 10.8 oz.
Upper: Textile/synthetic leather
Midsole: Injected EVA
Outsole: Non-marking ContaGrip
Salomon has been in the market since 1947, it started in France and has earned faithful customers around the world. Whether you're going on a hike or walking long distances in the city, the X Ultra GTX by Salomon is a long-lasting pair with excellent waterproofing by Gore-Tex for up to a few inches of water. Although the tongue has to be protected as water can get in from it.
The shoe is made of synthetic material and comes with Salomon's 2-year warranty. It requires a minimal break-in period and it is perfect right out of the box. It has a rubber sole with different types of rubbers for an intense grip. The sole provides protection against sharp rocks and roots and saves the feet. The chassis is lightweight, sits between the midsole and outsole, it connects with the sole for heel stability and also provides foam cushioning for comfort.
The SensiFit surrounds the foot from the midsole to the lacing system and makes sure that the shoes give a comfortable fit. The new lacing style might take a couple tries to get used to but once you get the hang of it, you'll love the ease with which you can take them on and off every day.
Pros: Praiseworthy waterproofing, great traction even on slippery surfaces, quick lacing system, requires a minimal break-in period
Cons: Runs small, narrow build
See the Salomon X Ultra 3 GTXSee the Salomon Women's X Ultra 3 GTX
2. KEEN Targhee III
Waterproofing: KEEN.dry
Weight: 1 lb. 14.8 oz.
Upper: Oiled nubuck
Midsole: Dual-density EVA
Outsole: Non-marking rubber
These shoes are made of nubuck leather, which makes them waterproof. They are breathable as well. Targhee III is a flexible pair with mid-cut height to keep the ankles nice and comfy. Leather uppers make it a long-lasting pair. But they might need a bit of pampering after taking the abuse of the dirt and uneven trails like any leather shoe out there, in that case, any good leather cleaner and conditioner will do the trick.
Keen's patented toe bumper saves the feet on uneven terrains and a rubber sole with lugged grip on the terrain gives you a great experience. The collar and tongue are well padded, heel lock, torsion stability, and heel pull add to the overall comfort of the shoe.
Keen offers a one-year warranty on their shoes for materials and manufacturing with some terms and conditions. This shoe runs a little smaller so be sure to order half a size bigger. Some users have experienced soles coming apart and breaking at the bottom which can be concerning but others swear by the famous Keen quality and durability.
Pros: A great option for those with wide feet
Cons: Sloppy fit for narrow feet, average traction
See the KEEN Targhee IIISee the KEEN Women's Targhee III
3. Merrell Moab 2 GTX
Waterproofing: Gore-Tex
Weight: 1 lb. 14 oz.
Upper: Leather and mesh
Midsole: EVA
Outsole: Vibram TC5+
Merrel Moab has been the number one choice for hikers for years, due to its comfort and durability. The upper of the Merrell Moab 2 GTX is made of synthetic leather and mesh. It features a slip-resistant Vibram rubber sole and a molded nylon arch shank. It has a very supportive footbed and a closed-cell foam tongue which keeps out any dust, debris or moisture.
Moab 2 GTX comes with a Gore-Tex waterproof membrane, which provides good breathability and does not have to be reapplied like waterproof coatings. The usual Merrell costumers find the size to be true but depending on which manufacturer they have used before, some users may find the shoe to be narrow or small but it depends. So it's a good idea to go one size up when purchasing these shoes and it will fit perfectly even when your feet swell after a couple of hours of walking.
The heels feature targeted cushioning and the ankle is very well padded giving extra comfort to the foot. The shoes also keep the feet warm during winter. Merrell claims an out of box comfort for this pair which stands true although the shoe breaks in even better with time.
Pros: True-to-size fit straight out of the box, freedom of mobility, synthetic leather upper make them lightweight
Cons: Questionable durability, somewhat steep asking price
See the Merrell Moab 2 GTXSee the Merrell Women's Moab 2 GTX
4. Adidas Terrex Swift R2 GTX
Waterproofing: Gore-Tex
Weight: 1 lb. 8.6 oz.
Upper: Ripstop mesh
Midsole: Midfoot shank
Outsole: Continental rubber
Adidas Outdoor Terrex Swift R2 GTX features a breathable Gore-Tex membrane for waterproof protection. The shoe is very lightweight, which makes it very practical and easy to be carried in your backpack. The shoe including the sole is made of synthetic material with a ripstop mesh upper, EVA midsole for cushioning, Traxion rubber outsole with grippy continental delivers great traction.
It has a comfortable cushioned textile footbed. Some users find the arch support insufficient which can be easily fixed with orthotic insoles since the foot box has enough space inside and can be adjusted with laces according to wide or narrow feet. It comes with a Bungee lace-up system and a heel pull loop which helps to get the shoe on and off easily.
The shoes are cut low like a sneaker, so water can get into them from the top which means you cannot use them in deep water or flowing streams. As with all waterproof shoes, once the water goes in the shoes, it will take longer for them to dry. For every other terrain, you'll see your socks just as dry at the end of the day as you wore them in the beginning.
Pros: Upper doesn't absorb water, lightweight
Cons: Lacks support for loads over long distances, average comfort
See the Adidas Terrex Swift R2 GTXSee the Women's Terrex Swift R2 GTX
5. Arc'teryx Aerios FL GTX
Waterproofing: Gore-Tex
Weight: 1 lb. 8.4 oz.
Upper: Cordura mesh
Midsole: Compressed EVA
Outsole: Vibram MegaGrip
This shoe is great for rugged terrains and climbing with a good grip due to its Vibram MegaGrip rubber. This shoe comes with Gore-Tex waterproofing and breathability. Although it does not hold up against a complete water submersion as long as you are walking on damp grass, mud or even rain, you should be fine. A big plus is that once the shoes get wet, they don't take as long to dry as most waterproof shoes do.
The toe cap and TPU on the upper give resistance against abrasions. The midsole is made of an EVA/polyolefin blend which gives shock absorption. TPU film on mid-forefoot gives underfoot protection. Mesh upper helps improve breathability, makes drying faster and keeps feet cool.
The Aerios FL GTX is a very lightweight pair that looks good, fits well and supports the feet well. It features a good fit on the heels and a comfortable toe box. The eyelets are placed in a way that ensures a good fit and an integrated pocket on tongue secures the laces so they don't come to lose which can be a problem with most shoes especially after a few hours of walking.
Pros: Very breathable for a Gore-Tex shoe, typical Arc'teryx built quality
Cons: Needs break-in period, stiff out of the box, not a lot of cushioning
See the Arc'teryx Aerios FL GTXSee the Arc'teryx Women's Aerios FL GTX
6. Oboz Sawtooth II Low B-Dry
Waterproofing: B-Dry
Weight: 2 lb. 2.8 oz.
Upper: Nubuck leather
Midsole: Dual-density EVA
Outsole: Carbon rubber
This is the first shoe on our list with the B-dry waterproof membrane. The B-Dry membrane is a polyurethane film membrane that keeps the water on the outside to stay out while it allows the inside moisture and heat to escape making the shoe very breathable without compromising the waterproofing ability of the shoe. The breathability is further improved with the large mesh panels.
The shoes feature an asymmetric collar, wide toe box and a narrow heel for a good fit. The O fit insole is shaped so that the foot stays in a neutral position. This is ensured by high-density EVA arch and heel cup, EVA pods, and medium-density EVA throughout. The top layer of the insole keeps skin dry by absorbing moisture.
The Sawtooth midsole and outsole provide the stability, flexibility, and support that you need on the road. The midsole has a dual-density EVA supportive cushioning and the nylon shank gives support between forefoot and heel. The prices of Oboz shoes can be a bit steep but it's worth it.
Fun fact: The map molded in the bottom of the outsole features the Sawtooth mountain range near Sun Valley, Idaho.
Pros: A very supportive low-cut walking shoe, does not require a break-in period
Cons: Upper absorbs water (but doesn't leak)
See the Oboz Sawtooth II Low B-DrySee the Women's Sawtooth II Low B-Dry
7. La Sportiva Spire GTX
Waterproofing: Gore-Tex
Weight: 1 lb. 12.8 oz.
Upper: Abrasion-resistant mesh
Midsole: OrthoLite
Outsole: Vibram XS Trek
The Spire is a lightweight, waterproof, low-cut shoe with an abrasion-resistant mesh upper. The shoes are breathable and comfortable with great traction on every trail from mud to sand or even hardpack.
This is another pair with Gore-Tex which enables waterproofing and breathability. La Sportiva has combined Gore-Tex with Nano Cell 2.0 Technology for the Spires to enhance the breathability. The Vibram XS Trek and impact brake system outsoles provide excellent traction on unpredictable terrain.
The shoes have a nice snug fit with a spacious toe box. As with most shoes that run a bit wide, if you have especially narrow feet make sure you check the sizing. You can wear them with mid-weight socks but that might make feet too hot during warm weather so it's best to stick to the right sizing. We don't recommend these shoes for very hot weather but for the cold and rainy weather, they keep your feet dry and warm.
Pros: Very comfortable, good traction
Cons: Not ideal for very hot weather, expensive
See the La Sportiva Spire GTXSee the La Sportiva Women's Spire GTX
8. Garmont Dragontail LT GTX
Waterproofing: Gore-Tex
Weight: 2 lbs. 1.5 oz.
Upper: 1.8mm suede rough-out
Midsole: Dual-density microporous rubber
Outsole: Vibram Q811
These approach shoes come with a water repellent suede upper and Gore-Tex, which make them suitable for rainy weather walks. The breathable material makes it ideal for long walks as the feet stay dry from sweat moisture in all weather conditions. The Vibram Q811 sole gives traction on all types of terrains.
The asymmetric ankle cuff shape i.e. taller on inside and shorter on outside complimented by the tongue being thinner on inside and thicker on the outside allows better stability and comfort. PU footbed has moisture and odor management properties and a straight shaped roomy toe box gives good space for the natural shape of the foot instead of cramping the toes.
The heels are secured in place by ankle pads. The narrow heel and smaller sizes mean you might have to go up a size when buying these shoes. Once you get the right size, take them on any terrain and be sure that you'll find them comfortable.
Pros: Yields a desirable level of grip, a great set of features, outstanding performance
Cons: Feels a little clunky, needs a break-in period
See the Garmont Dragontail LT GTXSee the Women's Dragontail LT GTX
9. Vasque Breeze LT Low GTX
Waterproofing: Gore-Tex
Weight: 1 lb. 6 oz.
Upper: Microfiber mesh
Midsole: Dual-density compression-molded EVA
Outsole: Vibram MegaGrip
The Breeze line has been a choice of many hikers for some time, the LT addition to this line is lighter than its successors. Vasque's Breeze is lightweight, long-lasting, durable and a good-looking pair equipped with Gore-Tex waterproofing. They deliver the out of the box comfort that Vasque claims. The shoes come with a rubber sole with great grip from Vibram which also cuts down in weight making it ideal for backpacking.
The upper is made of synthetic abrasion-resistant microfiber mesh and ensures breathability and a good fit. These shoes tend to run a little small especially the toe box can be too tight, it is better to go half a size up. The one common issue faced by many users is the heel slip which is killjoy but it goes away after a breaking in period and by tightening the laces.
Pros: Very comfortable, fit is true to size, grippy outsole
Cons: Narrow toe box
See the Vasque Breeze LT Low GTXSee the Women's Breeze LT Low GTX
10. Brooks Cascadia 14 GTX
Waterproofing: Gore-Tex
Weight: 1 lb. 7.2 oz.
Upper: Cordura mesh
Midsole: BioMoGo DNA
Outsole: TrailTack Rubber
Brooks Cascadia gives an amazing grip on every terrain be it rough or wet and comes with the signature waterproof and breathable properties of the Gore-Tex membrane. The material used is a fabric with 3D rubber print mudguard which helps keep the debris away. The shoes can withstand rough daily use on wet trails with the TrailTack rubber outsoles and their new multidirectional lug pattern improves grip.
The shoe comes with a heel pull loop. Laces have a security guard that keeps them tucked away so they don't come loose every now and then. A soft fabric lining, padded tongue, padded collar, and midfoot saddle make it very comfortable and gives you a great in-shoe experience.
Compared with the Cascadia 13, these are lighter and breathable plus the color range is a bit different. The shoes feature an amazing grip, a rubber TrailTack outsole, and an environment-friendly, flexible BioMoGo DNA midsole. A ballistic rock shield protects the foot from rocks and any other uneven object and is placed between the midsole and the outsole. Gaiter attachment is provided by the gaiter tab and connection point.
Pros: Perfect for running and day hikes, tough enough for stepping on rocks and roots
Cons: Feels narrow, the previous version was better in terms of stability, makes noise while walking
See the Brooks Cascadia 14 GTX
Best Walking Shoes for Rainy Weather: Comparison Table
How to Choose Walking Shoes for Rain?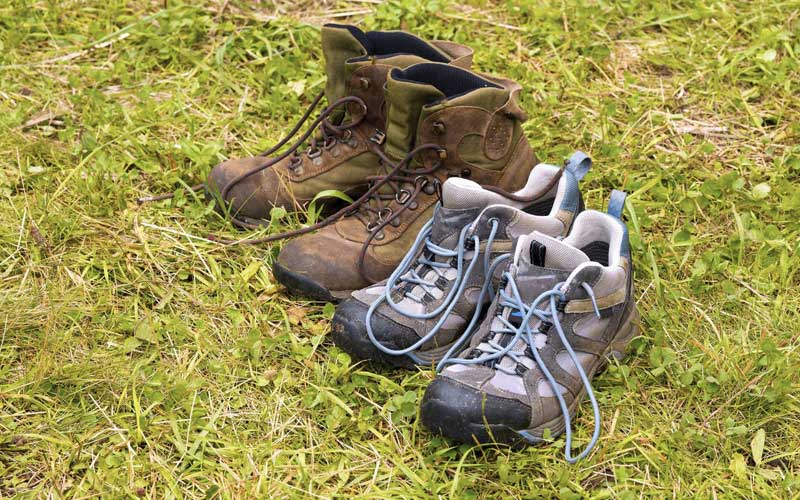 As mentioned above, your feet are the foundation of your walks. The more comfortable and protected they are, the more you can hike. When buying hiking shoes for the rainy season, there are some things that you should consider before committing. The wrong choice or a misfit can ruin your hiking experience by not performing as you would expect them to. So here are a few tips to consider before buying hiking shoes for a rainy season.
Waterproofing
Of course, when you are looking for shoes in the rainy season, you need to consider buying waterproof shoes. A walking shoe that completely hampers water does not exist. Jumping in a stream of water trickling down your legs can enter your shoes. Just make sure the waterproof fabric on your shoes is competent to keep water out of the shoe as much as possible. Adding a pair of waterproof gaiters can help the wall off the water.
The upper of some shoes are made of water-resistant materials or treated with DWR (durable water repellent) to add to the waterproofing capabilities of the shoes. These treatments, however, do wear off over time and require some extra care or restoration techniques. The leather of the shoe can be cured by special treatment such as Nikwax. DWR can be reapplied with a similar spray-on or a wash-in revival product.
When it comes to waterproof fabrics, Gore-Tex is one of the most renowned brands. Apart from hiking shoes, their products are used in jackets, pants, and gloves as well. But other companies also use their own proprietary waterproofing technology like the Merrell's M-Select DRY found in their popular Moab 2 WP.
Breathability vs Waterproofing
As you all may know, adding layers to a shoe will make it less breathable. This becomes a problem during walking as the feet start to sweat inside the shoes. In simple words, keeping moisture out also means keeping moisture in. In simpler words, waterproof shoes won't breathe as well as their non-waterproof counterparts.
It's like wearing a plastic bag on your feet and walking. It will keep the water out, but you will start feeling damp and sweaty inside very quickly, especially in warm and humid conditions. But not all is that bad. Gore-Tex membranes allow the moisture to escape, ventilating from the inside, out.
This has been found to work well in cold and mild temperatures, but will start getting hot if the temperature starts rising. That being said, waterproof shoes are champions for walking in tropical conditions. However, you should always consider finding a compromise between waterproofing and breathability if your feet sweat quickly.
Traction
The main reason anyone upgrades to a hiking shoe is that it provides better traction. The outsole containing multi-directional lugs provides you with a better grip and also thwart debris buildup. They also include high-performance rubber to withstand constant bending. Mostly, waterproof shoes come equipped with such modern outsoles.
Most waterproof hiking shoes use Vibram outsoles. This Italian brand is known for manufacturing high-performance rubber outsoles for popular footwear companies. Vibram also invented the lug sole for enhanced traction and stability.
Fit
The fit of the shoe is as important as the rest of the qualities of a shoe. A loose shoe will easily slip off. While a tight shoe will restrict blood flow and start hurting. A good fitting shoe will wrap around your foot like a soft glove.
Ankle flexibility is another benefit with waterproof shoes owing to its low-cut design. This leaves the ankles exposed and allows you to bend and twist your feet to overcome many obstacles. The only downside is that your feet aren't supported or protected well. Make sure you keep that in mind while choosing your shoes for rainy weather.
Weight
Waterproof membranes contribute to the overall weight of the shoe. This isn't noticeable in normal circumstances, but might be troubling in long and difficult hikes. Although companies try to make these shoes as lightweight as possible, they still don't match the normal hiking or backpacking shoes in terms of weight. Make sure hiking shoes are not a burden to wear. The ideal pair should weigh less than 2 pounds for a comfortable walking experience.