10 Things to Know Before Hiking in Work Boots
In this article, I am going to show you the difference between hiking boots and work boots. By looking at a pair, one can easily tell the difference but sometimes they both may look very similar and it becomes very hard to tell which one is which. People often ask me whether they can use their hiking boots for work or vice versa. The answer to this question is yes but at the same time, it depends on a few factors like what are you doing and what your goals are. So, I will try to demonstrate what separates hiking boots from work boots with some examples. I will go over some features and characteristics that will hopefully make it a little bit clear.
1. Outsole and Traction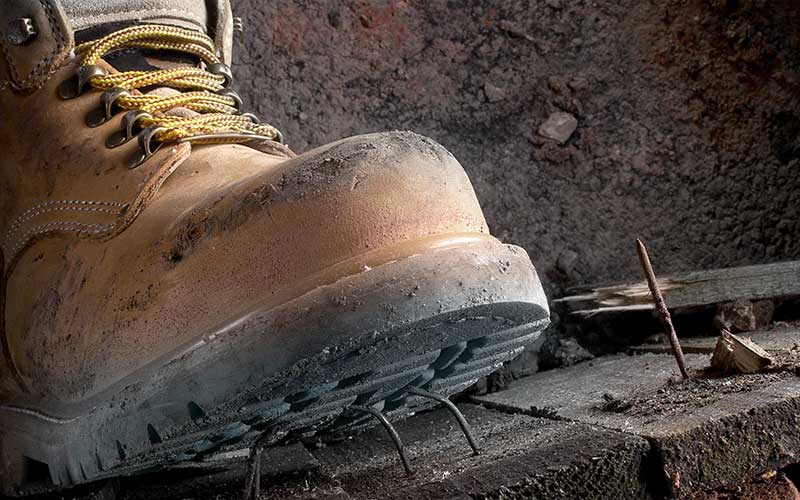 The outsole is the part that comes into contact with the ground. Hiking boots feature deeper aggressive lugs while work boots feature lugs that balance some aggressiveness with a bigger flatter area. This means that the deeper aggressive lugs are intended for the natural terrain like mud, grass, rocks, or dirt where they provide excellent grip and traction. In a work boot, the understanding is you might be in mud and grass but you also might be spending a lot of time walking around hard surfaces like macadam or concrete. The flatter broader tread extends the life of your boot when you use it on macadam. This also enables your body weight to be distributed over a wider surface. Some work boots may also provide aggressive lug patterns but they are designed exclusively for outdoor work where you may encounter surfaces like mud and loose soil.
2. Oil and Slip Resistance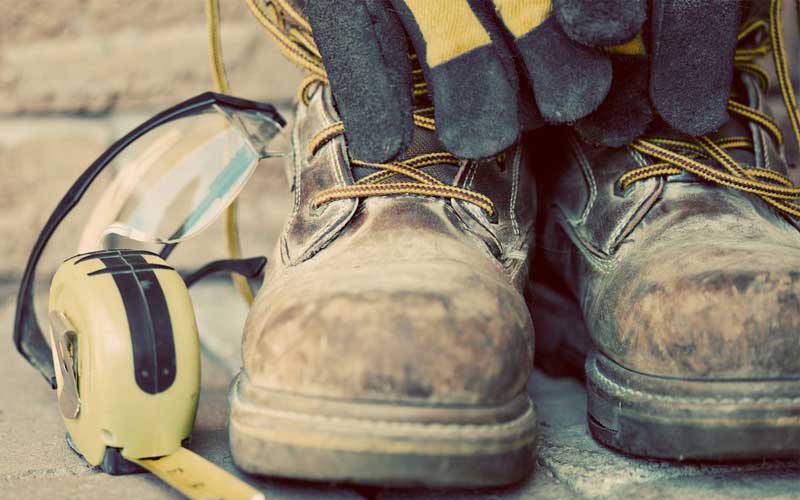 Some work boots may also feature oil-resistant and slip-resistant ratings but you'll never see them on a sole of a hiking boot. That's not to say that hiking boot is not oil-resistant and slip-resistant outsole, it's just not tested for that. In a work environment, they're expecting you may encounter some different chemicals or you may need that slip resistance on a hard surface say like a tile floor. Work boot manufacturers want to make sure that they're able to sell their boots to people in the correct occupations. They go through the testing that allows them to then print that on the sole. It could be the same rubber compound in some cases on a work boot versus a hiking boot.
3. Weight and Durability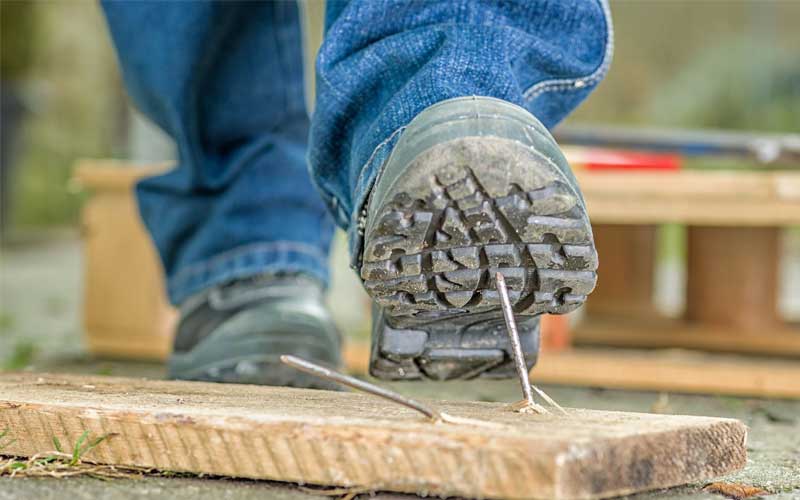 Another big difference is the materials used in the boot. Usually, in a work boot, you're going to have heavier duty materials like beefier leather, a heavier duty outsole, and the rubber that has a little bit higher carbon content for wear resistance. This does not mean that people want their hiking shoes to wear out quickly. Instead, the weight saving is their top priority when it comes to hiking and backpacking. Most people hike every single day for miles and miles but for the majority of the people, that weight savings is more important than having a super-duper durable shoe. In general, hiking shoes tend to skew towards helping you save some weight while still getting good support and grip and other features.
4. Steel vs. Rubber Toes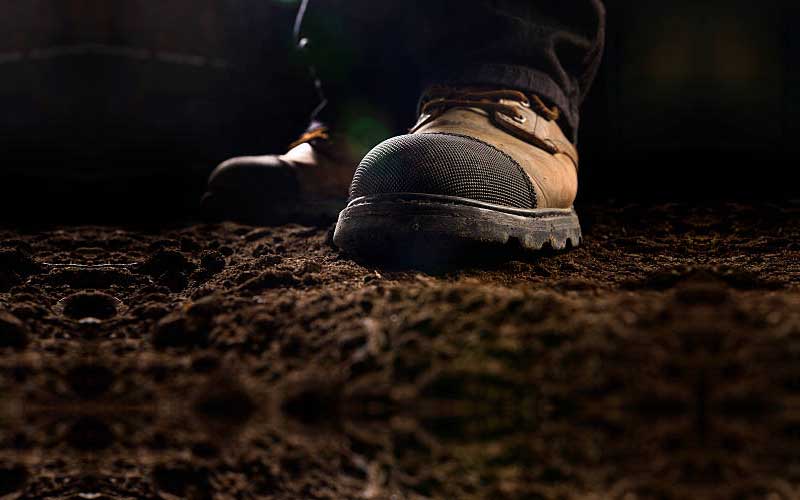 Construction sites have a comparatively high chance of hazards so due to this reason, many (or maybe most) work boots offer steel toe that adds significant weight to the boot. Now, there are some dangers that you could encounter on a hiking trail like abrasion for example. To protect you from that, hiking shoes feature toe caps or bumpers. They are usually made of lighter materials like rubber instead of steel so steel toes aren't necessary for hiking boots.
5. Flexibility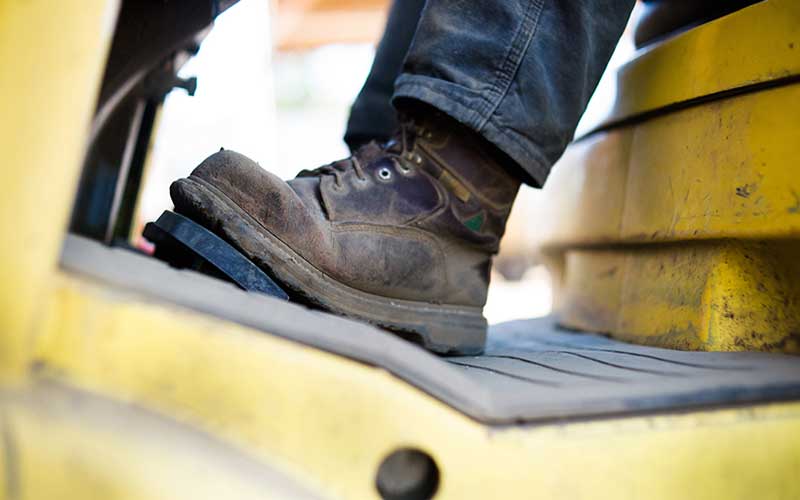 Hiking boots are specifically designed for long-distance walking. The materials used in the outsole are meant to use on natural terrain and it can easily adapt to the uneven ground while work boots are super rigid and aren't meant for walking. I know some work occupations require significant walking but that's an exception and there're boots made specifically for that purpose.
6. Ankle Support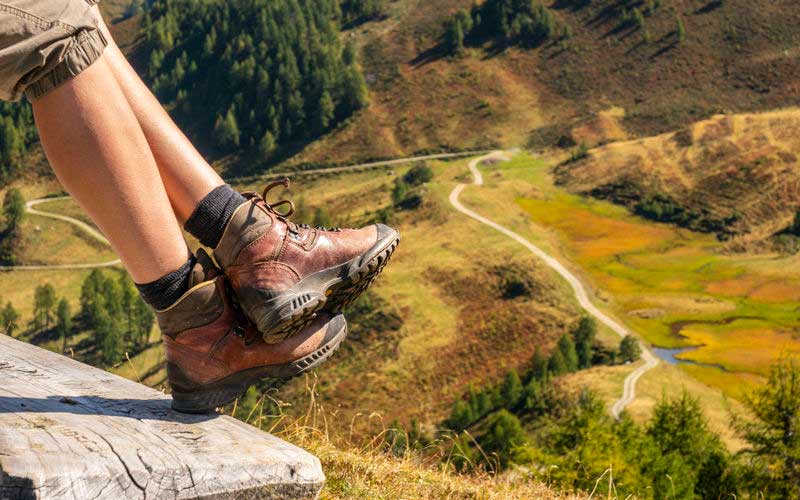 Ankle support is another important consideration for hiking especially when you are carrying a heavy backpack. Now, ankle support isn't critical and even some ultralight backpacking shoes do not provide ankle support. But in quality hiking boots, you feel your ankle is more supported, and if that's something you need, you should go and choose a pair that is designed specifically for hiking.
7. Upper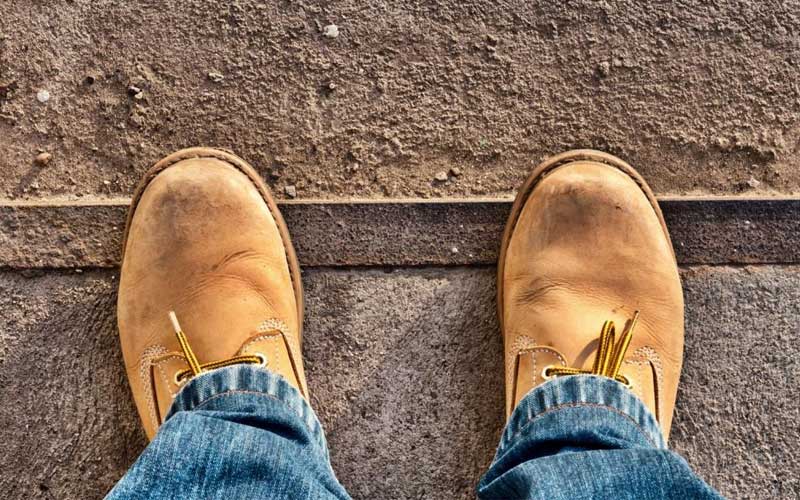 The upper is a piece of fabric that connects to the rubber outsole. The upper is responsible for the boot's durability, water resistance, and breathability. Most hiking boots feature a mix of synthetic, mesh, and leather upper. The mesh nylon panels are known for their good breathability and found in the majority of entry-level boots. Some boot offer nubuck and suede leather and heavyweight boots are often made of full-grain leather. All of these leather types provide some break-in period and ultimately become comfortable with time. These all kinds of leather upper can also be found in work boots but the materials will be stiffer and they may require a little longer break-in period for a long hike.
8. Waterproofing and Breathability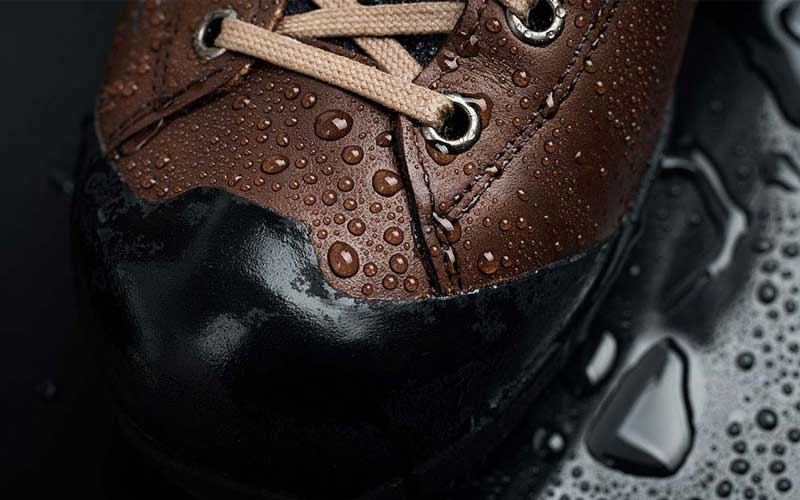 When you are hiking, you want your boots to be waterproof because you'll be crossing streams. Now, the majority of hiking boots are waterproof. To make them waterproof, companies use Gore-Tex technology. This is a material that adds waterproofing ability to boot while still being breathable. Work boots, on the other hand, do not provide great waterproofing as hiking boots do. They may be water-resistant but may not perform well in the wilderness like rainy conditions, crossing streams, snow, etc.
9. Comfort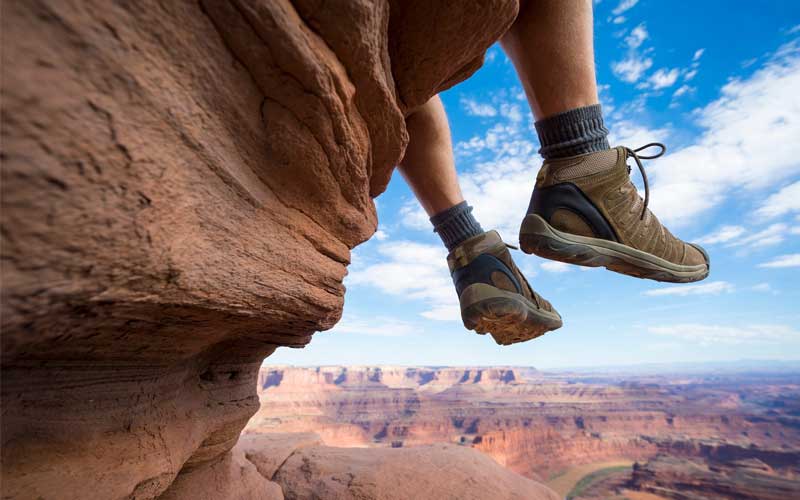 Hiking boots are designed to be comfortable for long-distance walking. They usually feature an EVA midsole combined with a rubber outsole. This combination plays a critical role in shock-absorbing from impacts and provides additional protection from rocks and roots. Now, the EVA is a soft and cushy material that provides excellent comfort but the downside is that it compresses with time. Another type of midsole is the PU or polyurethane. This is a relatively tough material and manufacturers use this material when durability is the top priority. This material is less comfortable but last longer and can handle heavier loads better. When it comes to work boots, they also feature EVA midsoles, for example, KEEN San Antonio but the overall construction of the boot will be very stiff compared to their hiking counterparts. In addition to stiffness, the boot will be much heavier, thus not ideal for longer hikes.
10. Versatility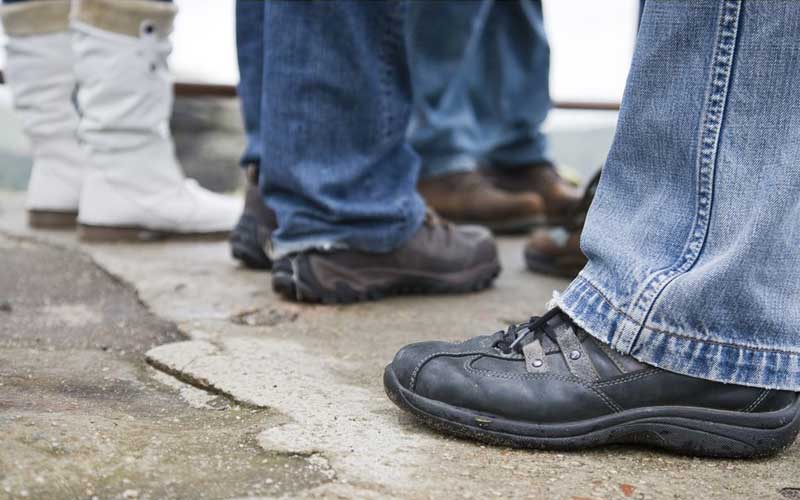 In my opinion, hiking shoes and boots are the most versatile footwear out there. You can use them on a variety of occasions. Wear them casually around town or style them with your favorite jeans, hiking shoes will never disappoint you. Also, they are lightweight focused and can withstand any weather conditions. On the other hand, work boots are not lightweight focused and heavy for everyday use. They feature a metal toe which is completely an unnecessary feature for everyday use. In addition, work boots are not as stylish as hiking shoes and cannot be styled with most pants.
Hiking Boots vs. Work Boots: Summary
| FEATURE | HIKING BOOTS | WORK BOOTS |
| --- | --- | --- |
| Outsole | Deeper lugs for traction on mud, dirt, or loose soil. | Lugs are not deep, they balance aggressiveness with a bigger flatter area. |
| Durability | Durable enough for most natural terrain. | Unnecessary durability for hiking such as a metal toe would be useless on the trail. |
| Oil and Slip Resistance | Hiking boots are not supposed to provide oil and slip resistance, still, they provide good grip on a variety of surfaces. | Yes |
| Weight | Comes in a variety of weight categories. | Usually heavyweight |
| Toe | Lightweight rubber | Metal |
| Flexibility | Flexible enough | Not very flexible |
| Ankle Support | Yes. Mid hiking boots provide good ankle support | Depending on the boot. Because these boots are not made for that purpose. |
| Waterproofing | Gore-Tex boots are waterproof | Only water-resistant |
| Breathability | Reasonable breathability with Gore-Tex | Poor breathability |
| Upper | Combination of synthetic nylon, mesh, and leather | Usually stiff leather |
| Comfort | Comfortable enough | Not very comfortable for hiking |
| Versatility | Can be used in a lot of different configurations | Not very versatile |
Should you Hike in Work Boots?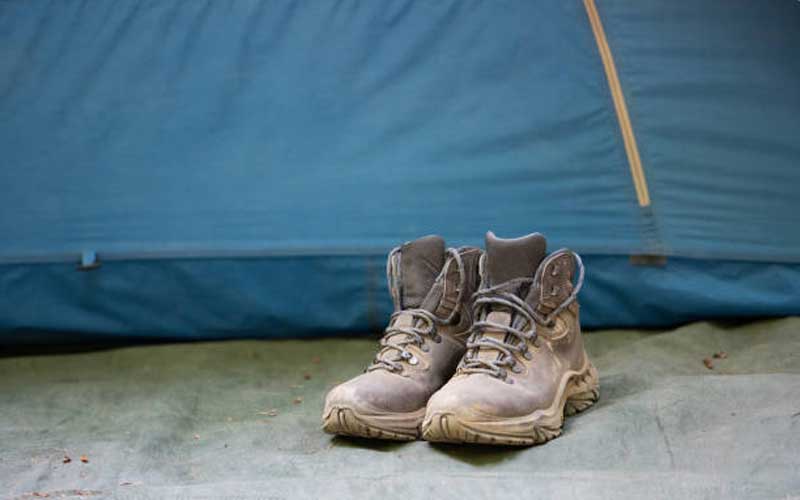 Work boots can be used for shorter hiking trips when you're not carrying a heavy backpack. If you are planning to hike in them, I'd suggest that you use them around town for a couple of weeks first. That way, you'll have a good idea of how these boots fit and how your feet respond to them. For a longer hike, I'd not recommend hiking in any kind of work boots. Instead, invest in a good quality pair if you are planning to do serious hiking.
My Favorite Hiking Boots
If you have decided to invest in a pair of good hiking boots, consider these two options for you next adventure trip.
1. Salomon X Ultra 3 Mid GTX

Weight (Pair): 1 lb. 15.6 oz.
Upper: Leather
Midsole: Injected EVA
Outsole: Contagrip rubber
Waterproofing: Gore-Tex lining
Salomon X Ultra 3 strikes a good balance between a heavy bulky backpacking boot and a lightweight hiker. They provide ankle support that you need on the trail when you are carrying a heavy backpack. They are flexible and light enough for most backpacking trips. Fastpackers can also enjoy this boot because it is responsive and does not slow you down. The outsole is a Contagrip rubber that has aggressive lugs to dig into uneven terrain. The boot is built low to the ground and it provides maximum stability.
The midsole is EVA foam that provides comfort needed for long day hikes while a lightweight molded shank gives the stability. EVA can also adopt your foot shape, which helps minimize over pronation and arch related problems. There's a sock liner that can removed for your own insoles.
The upper of the boot is waterproof that has a Gore-Tex performance comfort membrane. It breathes by letting warm air escape and keeps your feet nice and cold. Salomon is using more durable materials in the higher wear areas so your boots will last a long time. The rubber toe cap protects you toes from rocks and the heel counter supports your heels on uneven terrain.
I usually wear a size 10.5 in most hiking boot and Salomon X Ultra 3 fits perfectly with a pair of lightweight socks. Salomon also built a women-specific version for the best fit possible. They provide plenty of room for my toes to splay in the front with a snug fit throughout to prevent hotspots.
What I like: A great balance of weight and durability, aggressive lugs for traction, excellent water resistance, versatile for other uses
What don't I like: Runs warm sometimes due to Gore-Tex, the underfoot is a little thin
See the Salomon X Ultra 3 Mid GTX
2. Oboz Bridger

Weight (Pair): 2 lbs. 6 oz.
Upper: Waterproof nubuck leather
Midsole: Dual-density EVA
Outsole: Carbon rubber
Waterproofing: B-DRY
These boots are built for those who need comfort and supportiveness with the durability to last through tough miles on the trail. When I first picked up these boots, I was immediately impressed by the quality of the materials. Full-grain leather on the upper allows for maximum durability while a little softer and flexible nubuck leather in key flex points eliminates the stiff and uncomfortable feelings that some traditional boots create. A glove leather lining protects the integrity of the shoe over long term use.
The waterproof breathable internal B-DRY membrane along with a durable water-repellent (DWR) coating on the outside makes these boots ready for whatever weather you can throw at them. Dual-density PU midsole and Oboz's O FIT insole provide all the comfort and support you need for rugged hikes and long days in the backcountry. The durable Vibram Megagrip rubber outsole keeps you stable and provides traction over varied terrain.
What I like: Super supportive and sturdy for price, high-quality insoles included
What I don't like: Requires a little long break-in period, lacking flexibility compared to common competitors
See the Oboz Bridger Mid B-Dry
Conclusion
So in conclusion, work boots can be an option for shorter hikes such as a day-hike but certainly, they are not ideal for multi-day or thru-hikes. They are heavy, bulky, and require a long break-in period for longer use. If you are planning to take your work boots on the trail, it will be a good idea to keep a pair of full-fledged hiking boots or at least a pair of trail runners.