Best Tents for Camping in the Rain 2020
While sleeping under the stars may be a dream for most of us, sleeping in rain is far from it. Anyone who has ever gone camping in or around the rainy season knows that while with the right equipment, rain can be a surreal and amazing experience in nature, the wrong equipment can leave you stranded, wet and cold in the middle of nowhere. When you're going out into the wild, take the gear most suited to the weather and specific area where you're going.
So these are the best camping rain tents of different sizes and designs so that you can choose the tent best suited to your needs.
1. ALPS Mountaineering Lynx 2
Floor area: 37 sq. ft.
Peak height: 46 in.
Packaged weight: 5 lbs. 12 oz.
Packed size: 6 x 20 in.
This is a double-layered freestanding dome-shaped tent with a capacity to accommodate 2 persons comfortably. It has two vestibules that can be used for storing gear or they can be closed for an added protection from the rain.
The lynx series tents have aluminum poles making them lightweight for backpacking. Lynx series comes in multiple size options; the number in the name shows the person capacity of each tent. Compared to the Taurus series by ALPS mountaineering, it has more mesh (covering half the walls) making it more breathable, for which you'll be thankful on a warm night in the wild.
The tent has a 2-pole design and a heavy-duty #8 zipper on doors and vestibules. The dome shape means the walls are more curved which might be a compromise on height if you would prefer to stand up and move around inside the tent but this dome shape allows a good resistance against winds. The Lynx 2 is easy to set up and budget-friendly.
It has 2 doors, a polyester rainfly (full coverage) and rainfly windows. The poly taffeta floor and sealed seams help keep the water out. The top vents in rain fly are a big plus for breathability. If handled very roughly, the poles can be susceptible to breakage, so it's a good idea to handle the poles carefully. The gear loft is a good addition for storage. It is as easy to pack as it is to set up.
Pros: Light weight and gives a good space in a low budget.
Cons: Poles are susceptible to bending or breakage
See the ALPS Mountaineering Lynx 2
2. Coleman Sundome 4
Floor area: 63 sq. ft.
Peak height: 59 in.
Packaged weight: 9 lbs. 11.2 oz.
Packed size: 4.5 x 23.8 in.
The Coleman Sundome comes with a capacity range of 2 – 6 persons. It is very easy to set up with continuous pole sleeves. The large windows and ground vent make it very breathable and especially good for warm weather. The Sundome comes with a WeatherTec system that features inverted seams and welded floors.
The claim by Coleman that it can easily accommodate a queen size air mattress stands true to test. The rain fly covers the tent completely giving protection from the rain. Other features include a carry bag, e-ports, Variflow airflow ventilation, fiberglass poles, polyethylene floor, polyester taffeta, flysheet, and one-year limited warranty.
The instructions come neatly sewn into the carry bag. Bringing electricity into the tent becomes very easy with the e-ports. The storage/gear pockets are built-in and offer good space to store and organize gear. Privacy vent windows are also included in this tent.
Although great for warm or rainy weather, we suggest you don't take chances in winter, which to be fair, it is not built for. The door screen gives very good ventilation although if it was fully made of mesh, it would have been even better that's a personal choice, some users will appreciate this added coverage. All in all, it's a good value for money.
Pros: Spacious and allows good ventilation with mesh.
Cons: Although good for light rain, it might not hold up against extreme winds or heavy rain.
3. Hyke & Byke Zion 2
Floor area: 34.4 sq. ft.
Peak height: 42 in.
Packaged weight: 5 lbs. 14.7 oz.
Packed size: 6.3 x 17.75 in.
The Zion is easy to set up, dome-shaped tent with near-vertical walls making it very spacious. The footprint is made of polyester lattice cloth and comes in a separate bag of its own. The poles and stakes are made of aluminum which reduces the weight further.
Hyke & Byke offers a lifetime warranty for its products, they will replace any damaged or broken part and a lot of users have had to claim the warranty and replacements. The company offers very good quality products but this particular tent has received mixed reviews so we will let you be the judge. It's a low-cost tent and is perfect if you want to make one or two camping trips to test the waters but for a seasoned hiker looking for a long-lasting product, we suggest you balance the cons and pros before making a choice.
Pros: A good design with plenty of room for movement.
Cons: Material rips easily and the weight can be slightly more than stated in the description.
4. Alvantor Warrior Pro
Floor area: 31.5 sq. ft.
Peak height: 42 in.
Packaged weight: 4 lbs.
Packed size: 5 x 17.5 in.
Being a US-based company, Alvantor gives fast shipment and service. Their warrior pro is a single-layered tent which makes it very lightweight and backpack friendly. The warrior pro is easy on the pocket too. It comes coated with PU and sealed seams to make it completely waterproof. The tent also features a PE tarpaulin deep tub floor which can hold up well against water on the ground.
It is quite easy to set up and take down, ideal for new campers. The mesh keeps out insects. The tent has internal storage pockets and shoes cover. The poles, stakes and ropes give a sturdy support against wind. The tent comes with its own carry bag.
A vent on the rear of the tent and large U mesh window provides good ventilation but once they are closed the tent is not super breathable on its own, depending on the weather, you can even get some amount of condensation inside the tent.
The tent is a two-person tent ideal for people under 5'9" but for a tall person, it might get a little cramped. As we will discuss later, it's good to go up one person in capacity so for one person it will be comfortable enough with sufficient space for gear. Alvantor offers a limited 1-year warranty.
Pros: Lightweight and space saving.
Cons: Susceptible to condensation and cramped for two people.
5. Kelty Salida 2
Floor area: 30.5 sq. ft.
Peak height: 43 in.
Packaged weight: 4 lbs. 9 oz.
Packed size: 13 x 15 in.
The Salida is a 3-season, free-standing tent available in different capacities of 1p, 2p and 4p. It is super lightweight and can be carried in a backpack, it is an ideal backpacker's tent. If you're going in a car, this probably might not be an issue but on foot, every ounce counts.
It has a nylon floor with polyester and meshed walls. It comes with a color-coded clip and a rainfly attachment. Salida is very easy to set up. It comes with its carry bag making it easy to be carried anywhere. It is a free-standing tent with good ventilation from mesh walls. But when the mesh is covered with the fly, it can get a bit stuffy in there and might create condensation inside the tent in extremely humid conditions.
The tent features one door, one vestibule, internal storage pockets, taped seams, and gear loft loops. The big D shaped door gives easy entry. The footprint is not included with the tent so make sure you buy one separately. The tent is quite easy to set up with just two poles. It has a fairly spacious interior and vestibule. The interior space is enough for two people with small frames.
Pros: Super lightweight
Cons: Prone to condensation in hot and humid weather.
6. Marmot Limelight 4
Floor area: 51.7 sq. ft.
Peak height: 54 in.
Packaged weight: 8 lbs. 8 oz.
Packed size: 9 x 27 in.
Limelight comes with Pre-Bend construction which helps pull the tent walls in a more vertical position, making the corners more usable. The tent features loops for gear loft and internal pockets. It also has top pockets for flashlight which is diffused by the top mesh giving good illumination.
The clips make it very easy to set up. It has two doors and two vestibules. The doors have pockets on the inside to keep the open door out of way. The rear door is a D-shaped one and the one in the front is a double door. Both doors give easy entry and exit while the vestibules give good storage space for gear and shoes. The tent has sealed seams that block entry points for water.
Marmot Limelight is very similar in design to its Limestone with a few differences. Firstly, the Limelight is lighter whereas Limestone is more sturdy and durable. The material on Limestone is thicker and more waterproof but increases weight. This means if you're going for car camping, Limestone would probably be a better choice while for backpacking, Limelight is better.
Secondly, the vestibule space in limelight is bigger and it also comes with a footprint. Third, the packed size of Limelight is smaller making it more space-saving. So it's size and weight versus durability choice depending on your requirements.
Pros: Storm-proof
Cons: Prone to a bit of condensation.
7. Marmot Tungsten 4
Floor area: 53 sq. ft.
Peak height: 52 in.
Packaged weight: 8 lbs. 11 oz.
Packed size: 9 x 24 in.
This is the third Marmot product on this list and there's a good reason for it. These tents are very well ventilated with good waterproofing. Tungsten comes with a rain fly and a footprint to make it a storm proof battleship against heavy rains. The vents on the rain fly can be accessed from the inside as well as outside and together with the doors on vestibules facilitate ventilation in different weathers.
It's a 3-season tent so it's not ideal for winters. This model has a 4-person capacity. It features two doors, two vestibules, four internal pockets for storage, two pockets for flashlights and ample vestibule space. The vertical walls give sufficient space for arm movement. The poles are made of aluminum.
This tent is more suited for car camping as it gives priority to durability instead of weight. The tabs on the fly and tent itself are color-coded making it easier to align. The tent is quick and easy to set up with clips for attachment to the poles and the color-coded poles. The bent poles help create more vertical walls making all the corners usable.
Pros: Excellent ventilation with plenty of space inside.
Cons: It can be a little too bulky and heavy for backpacking.
Best Camping Tents for Rain: Comparison Table
How to Choose the Tent for Camping in the Rain?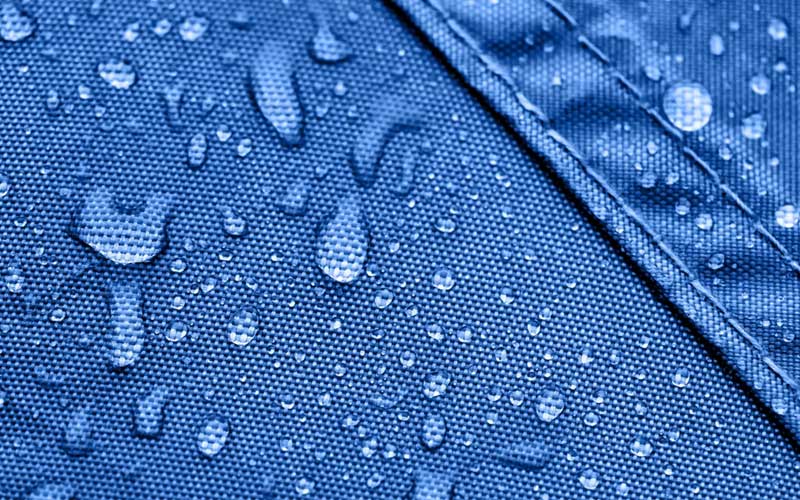 Below are a few things to keep in mind while choosing a rain tent for camping.
Waterproofing and Breathability
Rainfly is provided separately with most tents. If you want you can always add another layer over the tent or fly for an added protection against water but that will be an extra cost and weight that you will have to carry therefore it's a good idea to buy a tent which has a good quality rain fly made out of a material that offers breathability along with waterproofing.
Another important thing to keep in mind is the type of rainfly. There are two types, one that covers only the top which lets in air and light. The other type that covers the top as well as walls giving full coverage. Choose the one that suits your campsite weather best.
Seams are one of the entry points for water. Look for tents with sealed seams, you can seal seams yourself as well which is good for repairs on an old but a big no for a new tent when you have the option to buy a tent with already sealed seams.
A footprint is a very welcome addition to many tents but you can also buy one separately if you don't get it with the tent, a footprint is custom-fitted for your tent so that water does not enter under the tent preventing leakage through the floor. Many tents come with bathtub floors which add a few centimeters to a few inches for added protection from standing water up to a few centimeters or any splashes. Mesh allows good breathability. Tents with only a single layer, look for materials that give you good breathability.
A good tip is to check the thickness or denier (D) value of the material for breathability and waterproof rating given in mm which indicates the amount of waterproofing. Find a balance between the two properties according to the expected weather of your campsite.
Design
The dome shape has curved walls but lower height, which does not allow standing or walking but it holds pretty well against the winds which are often paired with rain. Most companies will separately give rain and wind resistance but always make sure what kind of rain you are expecting. If the forecast says thunderstorms, go for a tent that stands against both elements.
The cabin tents, on the other hand, have a good space for standing and walking around. If you're going to camp with family then a cabin tent will allow good movement. Another thing to consider in dome-shaped tents is the number of doors, if there are going to be at least 2 people inside the tent, a tent with 2 doors allows one to avoid going over the other.
Another factor in designs is the presence along with the shape of vestibules and awnings. These extensions are tiny design details but can make a world of difference during rain or storm, they allow for the opening of doors or windows for ventilation without which you might observe condensation or feel stuffy inside the tent.
Capacity/Size to Weight Ratio
You can't sleep like a straight log so you need some room to move around inside the tent. If you're going to carry it in a car then weight shouldn't be an issue but if you're going to carry it in your backpack then certainly you don't want to be carrying extra weight. A good idea is to go with the capacity for one person more than your need. That way you'll have plenty of room to move around even if you are a big fellow or if you want to store your gear inside the camp.
Durability Vs. Cost
If you are someone who goes camping quite often, then it goes without saying that you should invest in a tent that will stand through the test of time and weather with you. But if you're only going to camp occasionally then you can go for something that gives you reasonably good quality at a lower price.
Another factor to consider is the weather you are going to expect. As we're discussing rainy weather particularly here, look for a good quality tent in which seams don't tear easily and a rain fly that gives full coverage.
Ease
The ease with which you can set up the tent is very important because when it gets cloudy, you need a shelter ASAP. The rain won't wait for you to set up a complicated tent or even just to cover the tent with a complicated rainfly.
It is very important to choose a tent that matches your skill level, a seasoned camper can pitch a complicated tent in a few minutes but someone who only camps occasionally should start with something simpler and practical. It's also a good idea to practice setting up the tent at home first before you go into the wilderness.