Top 10 Best Places to Kayak in the US
Kayaking is a great way to enjoy nature and get a different perspective on your surroundings. Kayaking is a sport that can be done for leisure, exercise or passion. The United States is known for its diverse landscape. It is packed with places to kayak from Alaska to Florida. There are wild rivers, quiet lakes, open oceans, and bays that are fed by huge glaciers. The whole continent is a playground for kayakers.
Kayaking is also a great way to de-stress yourself from the fast-paced, depression inducing life of the city. It is also a great exercise and a fitness activity that gives body strength and flexibility. Kayaking is a sport to be enjoyed, whether you are in your teens or in your 50s. If you're an adrenaline junkie, action sports super fan, or just an outdoor lover, there is nothing better than hitting the open water on your kayak.
To help you choose the right place to kayak, here are the 10 best places to kayak in the US that we think can be a great escape from your boring city life.
1. Colorado River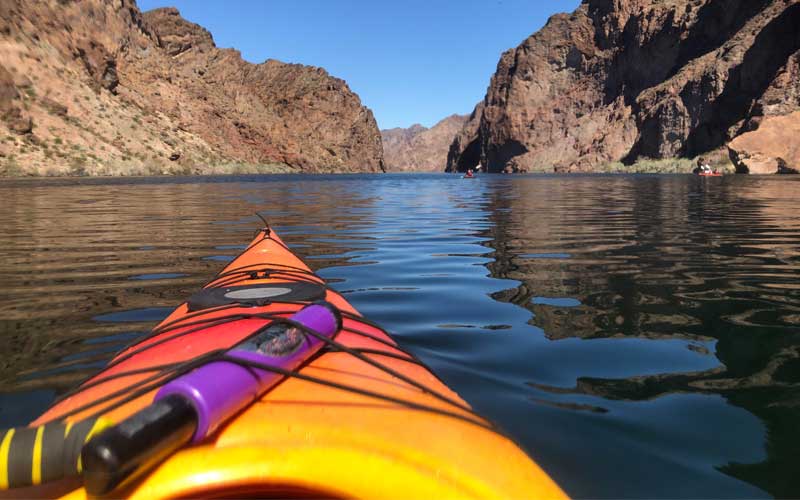 Colorado River is famed for its incredible rapids and is full of adventure. You may be missing out if you don't plan to kayak in the amazing river as beautiful scenery surrounds it throughout the way.
Stretching 1,450-miles, Colorado River is a bucket list item for kayaking. But nothing to fear as kayakers of all levels can experience the fun of kayaking in the river that carved out the Grand Canyon.
Colorado River has sections with gentle stretches as well as sections with rough waters for more experienced people seeking a thrill. Regardless of your level, paddling through this giant canyon is an experience of a lifetime. There are several guides that take visitors through the waters of this mighty river.
What makes kayaking most memorable and exciting in the Colorado River is knowing the fact that you are in the eighth wonder of the world, the Grand Canyon. But that's not all. Colorado River runs through seven states of America: Colorado, Wyoming, Nevada, Arizona, California, New Mexico, and Utah. All of these with stunning sceneries of their own.
2. Lake Tahoe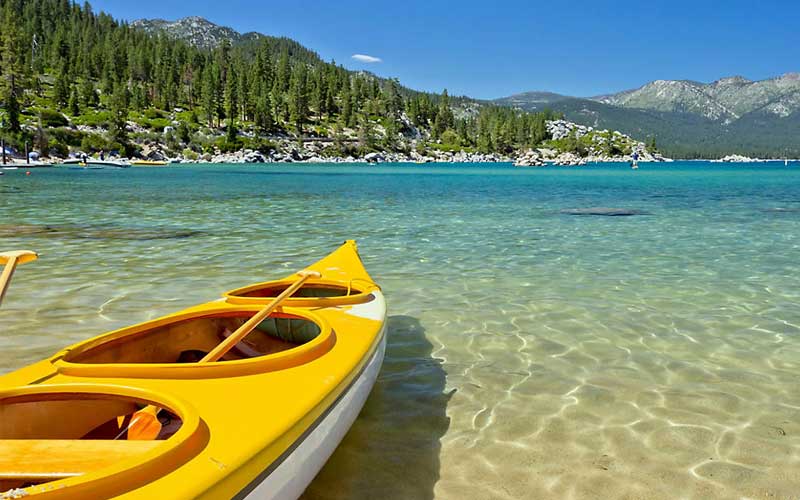 Lake Tahoe is North America's largest alpine lake. The calm and crystal clear water of the lake makes it an ideal kayaking destination. Although Lake Tahoe is popular for various activities, it is especially known for its kayaking services along with friendly coaches and kayaks available for rent.
It would be hard to miss Lake Tahoe on the list of the best places to kayak in the U.S. The Lake Tahoe basin is a crystal clear body of freshwater that straddles the states of California and Nevada, where you can paddle to your heart's content.
Outdoor enthusiasts flock to this lake. They stay either on the California or Nevada side to enjoy the calm blue water and to paddle against a backdrop of jagged mountains and evergreen forests.
The best way, perhaps, to end a kayaking trip on Lake Tahoe would be watching the sunset there. You can also wait longer and watch the clear as millions of stars start appearing on the night sky. But in case you are not able to stay till sunset or nightfall, you can still enjoy the beautiful scenery around this lake consisting of beautiful mountains and forests.
3. Tyger River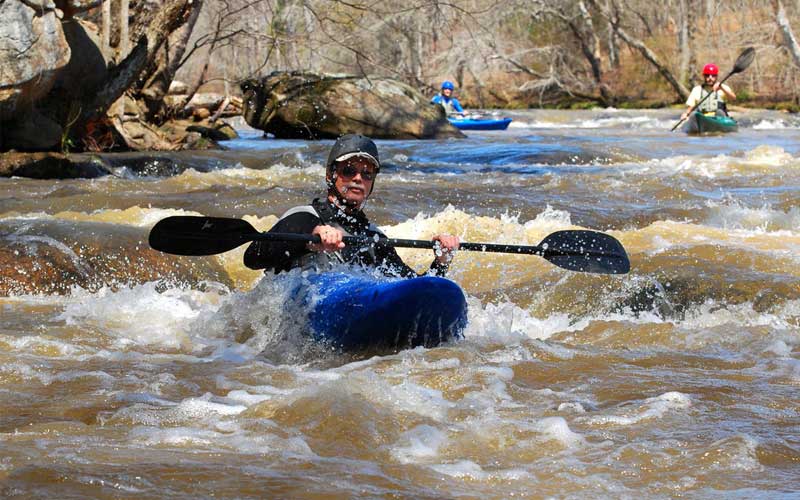 To conserve, educate, and to highlight the use of the river for recreational purposes, in the long run, a reputation has been developed by the Tyger River. The initiative has turned the river into one of the most popular places to enjoy water sports safely.
Tyger River flows through Sumter National Forest in South Carolina. The waterway of this river is full of wildlife and beautiful scenery of the forest. People who are into kayak fishing find this place much more exciting. The views of the Tyger River Canoe Trail are always relaxing and offer something new to see.
Tyger River has several areas for kayaking but only a few are considered safe for beginners. Overall, this river can be very tricky and require appropriate certification in watersports. Various sections of this river fall under the class range II and III.
There are marshy areas as well as bottomland forestry that you will come across while kayaking on the Tyger River Canoe. The diversity of the river brings kayakers from miles around. The river changes from four to seven feet wide and forty to seventy feet deep. What you see as you kayak just depends on where you are on the river, as well as what time of year you are visiting.
4. Gauley River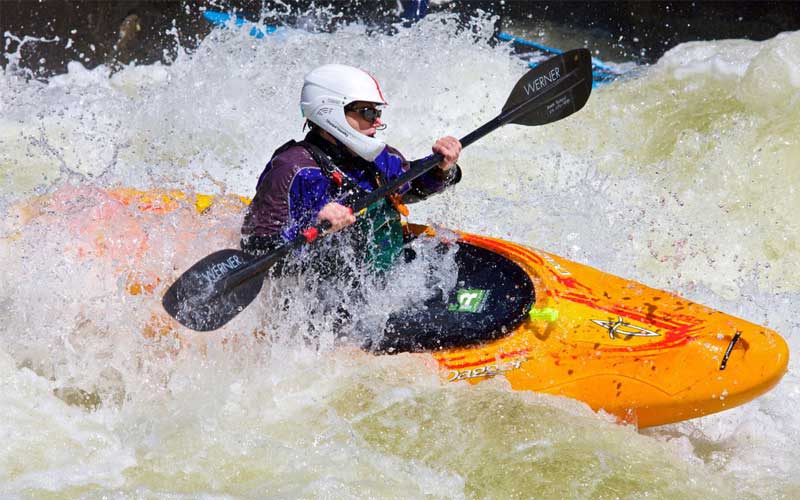 West Virginia is known for its beauty and stunning mountains. From those mountains, originate some of the fiercest waterways. Generally, fall is a beautiful season in West Virginia. But it is not the only reason people look forward to it. Every year during fall, water is released from the Summersville Dam creating the perfect whitewater rapids for expert kayakers. This time of the year is known as West Virginia's fifth season, the Gauley season.
In southern West Virginia, the Gauley River has strong currents and high levels of rapids. The 105-mile long Gauley River is one of the most popular destinations in West Virginia for white water kayaking.
On its way, the Gauley River connects to many other rivers offering lovely scenic views. Recreational boaters come here, besides kayakers, for rafting purposes as well. The river falls under the class range of IV-V. If you're looking for a one-day trip, it's hard to do better than the backcountry of the Mountaineer State.
5. Arkansas River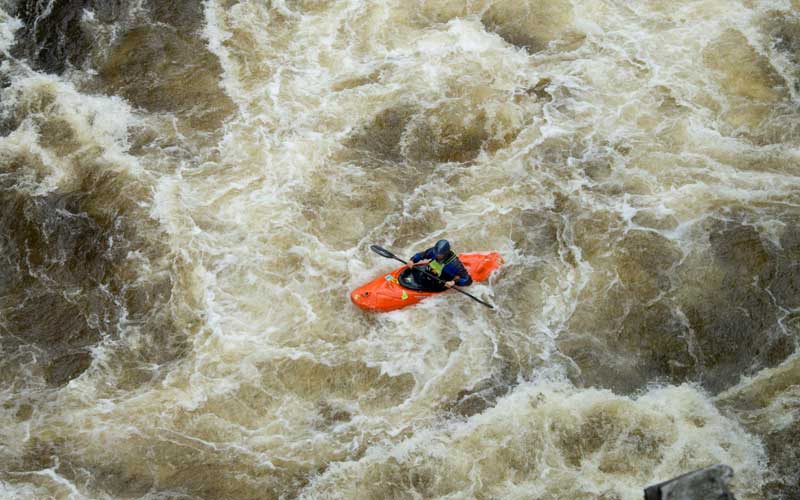 Arkansas is among the best places to kayak for beginners. There are also a variety of other water rafting adventures to go kayaking. The Arkansas River has around 9000-miles of streams which lets kayakers to choose a suitable spot according to their skill level and age.
The 14000-foot mountains present on both sides of the river make an enjoyable place for kayaking. Arkansas River is the 6th largest river in the United States starting from Colorado and ending in Arkansas. Among many reasons, one reason that it is considered great is because of the mountain streams that provide great views and fine temperatures.
In certain seasons with a specific license, you can also enjoy fishing in some of these lakes and streams. There are plenty of spots in the waterways that lets you test your angling skills along with having fun. Make sure to kayak through the Royal Gorge, while kayaking the Arkansas River, to have an exciting experience. Various portions of the river fall under the class range of II to IV.
Arkansas River also has a lot of campsites. These campsites have services available like drinking water, grocery stores, rentals and other camping services that can be availed at a variety of prices.
6. Eleven Point National Scenic River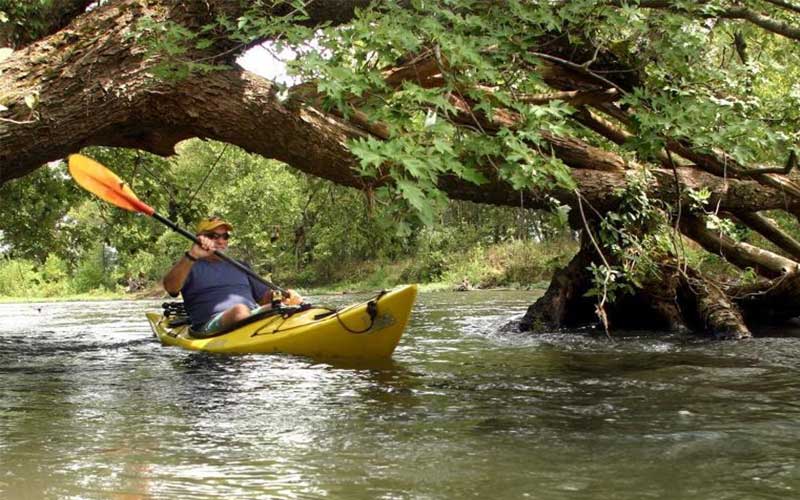 Established in 1968, The Eleven Point National Scenic River is a 44-mile scenic river with a largely undeveloped shoreline and watershed. Internationally, this river is known for its wonderful scenery and rich history.
It is situated in the Ozarks of Southern Missouri. This river provides you with an opportunity to drift through in a relaxed manner. As you kayak down the river, your eyes will be treated to the beauty of birch and sycamore trees. These trees also form magnificent canopies over the river at some places.
As per the name, the Eleven Point National Scenic River is just scenic! There are forty-four miles of winding turns and smooth water going through colorful forests that are home to an abundance of wildlife. The Eleven Point National Scenic River starts off as a small stream but expands and becomes deeper as it moves along.
Some portions of the river are more challenging making them suitable for more experienced kayakers. Although this river is only 44-mile long, the scenic views it provides throughout can be mesmerizing and memorable.
7. Salmon River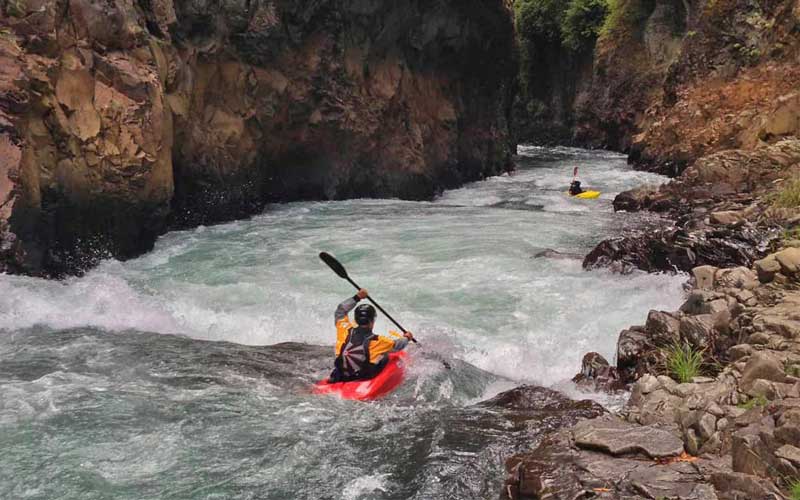 Situated in Idaho, the greatness of the Salmon River is among the many reasons it is called the "river of no return". Several beaches and a bog canyon make the place better for vacation and long weekends. In continental America, some of the deepest canyons fall in this region.
Due to its serenity and the views that this place has to offer, this great river is one of the top kayaking destinations in the US. It is a wonderful destination when it comes to whitewater kayaking.
The river has been categorized into three parts of kayaking: Lower Salmon, Main Salmon, and the Middle Fork. Lower and Main Salmon fall under class III while the Middle Fork falls under the class range of III-IV. Whether you are an expert or a beginner, it will be easy for you to tackle the Salmon River.
To make for a more enhanced kayaking experience, many companies hold two-week-long trips with several stops along the way. Kayaking is not preferred at night but tours are held by licensed professionals in the night to experience a unique level of peace in the nature surrounding the river.
8. Tuolumne River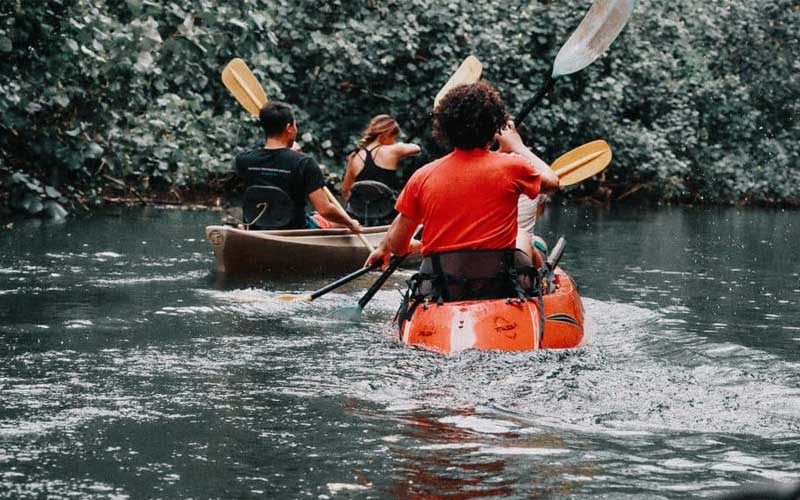 The Tuolumne River flows through to the California Foothill Canyon which is an adventurous spot for people that find peace in nature. Kayaking in the Tuolumne River can be a super exciting experience if you are an expert kayaker who is looking to have some adventure and fun. The Tuolumne River is a perfect whitewater rafting area.
Situated near Yosemite National Park, Tuolumne River has rapids that are classified as class three to four meaning they are suitable for expert and intermediate kayakers. For newbie kayakers, this is a very tough place. The scenic sights it offers during a kayaking or rafting journey is wild but unique and amazing.
It is a great way to rediscover the beauty of nature if you have enough kayaking experience. You will witness waterfalls and canyons on your journey across this river which is affectionately known by the natives as the "T.".
Most tourists usually take 2-3 days to make the most of the wildlife and natural scenery it has to offer. Camping facilities are easily accessible near this river. The access points consist of wilderness areas. These areas have a few natural campsites of their own and offer a great opportunity for kayakers who want to enjoy their trip overnight.
9. Chesapeake Bay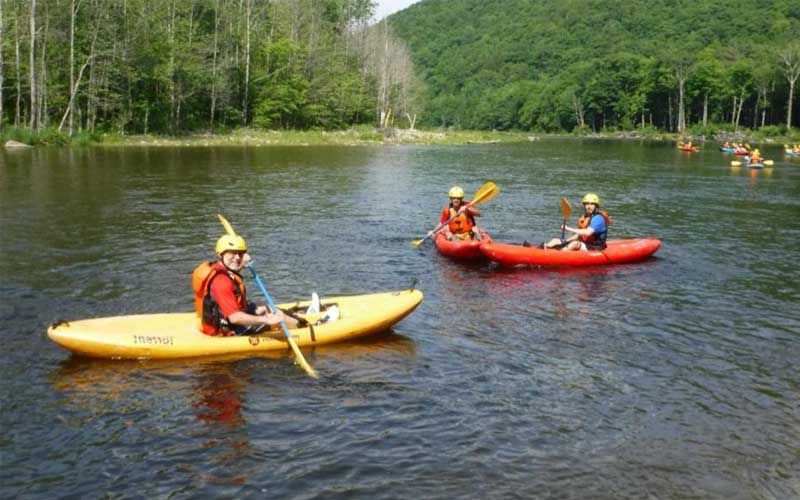 The Chesapeake Bay is the largest estuary in the United States. This is a 200-mile long river that flows through six states. It is home to millions of people and thousands of plant and animal species which include the unique diamondback terrapin.
Generally, tourists spend up to two days paddling through and discovering the beauty of this bay. This bay provides opportunities for a great kayaking experience. It is one of the most exciting places in the USA for kayaking lovers.
The shorelines have beaches where you can hang out with friends and kayak or canoe in the water. The tributaries of this bay are one of the best places in the USA for beginner kayakers and also for people who want to kayak for relaxation instead of adventure.
The Chesapeake Bay has shallow bodies of water which are excellent for beginners and people who need safer bodies of water. Fishing is one of the highlights of the Chesapeake Bay. The Chesapeake Bay Bridge-Tunnel which is situated in the Lower bay is world popular for kayak fishing adventure.
10. Prince William Sound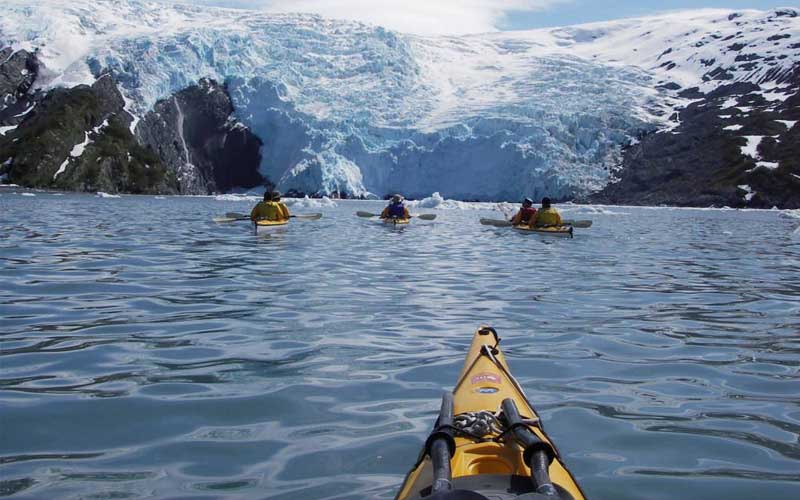 Prince William Sound is a part of America's second-largest forest, the Chugach National Forest. It was named after King George III's third son, Prince William Henry. It surrounded by steep and snow-capped Chugach Mountains.
Do not be surprised if you encounter a humpback whale, orcas, sea lions, black bears, eagles, and other creatures. The wildlife alone attracts several nature lovers and tourists from around the world each year. Kayaking down this sound is a unique experience due to its vastness and abundance of wildlife. It is known as the "kayaker's paradise".
The lack of pollution and water from the glaciers keep the water so clean. The Prince William Sound is surrounded by giant glaciers and mountains that give kayakers a cold, yet lovely backdrop as they paddle. When you are paddling you cannot ignore the crystal clear, azure-colored water.
Once you realize the sheer beauty of this place, you wouldn't want to leave. You should expect that it will take more than one excursion to fully experience the greatness and the peace that Prince William Sound has to offer.